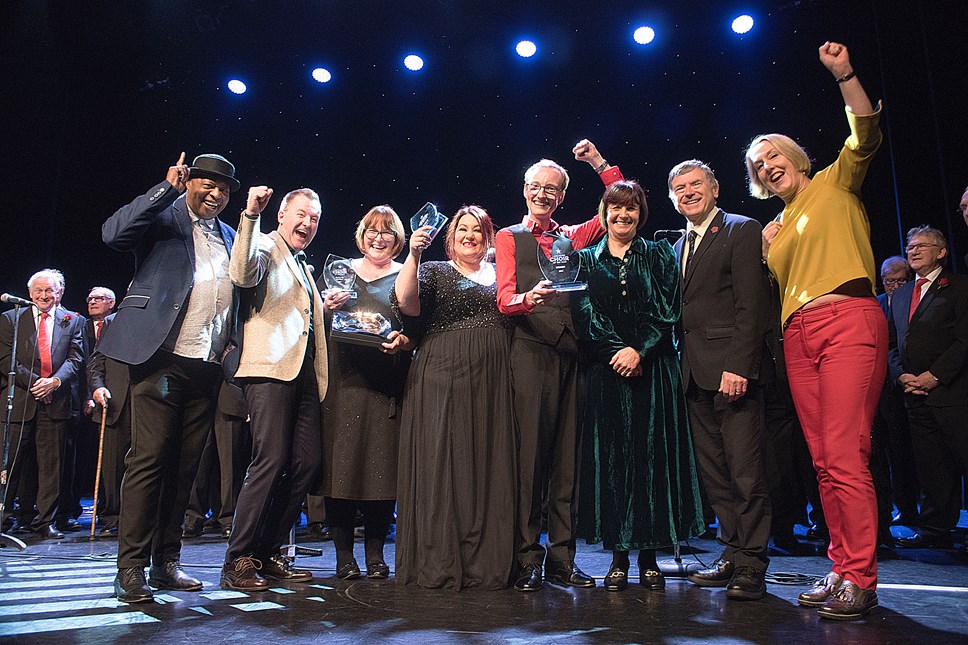 Amazing performances crown Choir of the Year competition
The final of the first ever Lancashire Choir of the Year competition saw impeccable performances by some of the best singers from across the county, writes Danielle Thompson.
Dressed to the nines, all of the choirs gave the performance of a lifetime when they took to the stage at the Charter Theatre in Preston, each performing not one but two show-stopping numbers live on the night.
Compere Tim Uffindell stirred the crowd of singers, VIP guests, friends, family members and the judges into a frenzy with his opening performance of Isn't it Funny and his introduction of each of the very varied and talented choirs.
Starting off strong, Rossendale Male Voice Choir gave a rousing rendition of Drunken Sailor – along with humorous choreography, followed by a more lingering number, Softly as I Leave You.
Aughton Male Voice Choir followed with polished, traditional Hunker Down then an energetic Bohemian Rhapsody, before the very enthusiastic, talented Lancaster Royal Grammar School Choir gave a new spin to Teddy Bear's Picnic, and an unforgettable rendition of Cantique de Jean Racine.
The all-female lineup of the Red Rosettes Show Chorus performed Strike Up the Band and Feed the Birds and this completely different range of notes stood out as a different feel on a night of very varied and deeply talented groups.
The Blackpool Male Voice Choir, who boast Alfie Boe as a patron, gave an effortless performance of Bohemian Rhapsody and Nessun Dorma and Clitheroe Parish Church Amateur Operatic Dramatic Society (CPCAODS) - show choir rounded off the night in show-stopping style with You'll Never Walk Alone/Climb Ev'ry Mountain and the soul-searching You Will Be Found.
Each of the performances brought a very different feel to the event, with some of the songs very lively and energetic, some more traditional and some with surprises – see https://www.lancashire.gov.uk/choir-of-the-year/winners/
The judging panel consisted of Jeff Borradaile, choral director and teacher; Jane Irwin professional soloist; Tyndale Thomas, songwriter and arranger; and County Councillor Phillippa Williamson, leader of Lancashire County Council.
Various category winners were announced at the end of the evening, including the People's Choice award as voted for by the public, with that honour going to Royal Grammar School Choir – received to rapturous applause.
After much anticipation, Rossendale Male Voice Choir was named the winner in an explosive round of applause, with the award presented by County Councillor Peter Buckley, Lancashire County Council's cabinet member for community and cultural services.
In addition to the trophy, the choir have been awarded a recording contract and a trip into the Lancaster recording studio in early 2023!
Choir chairman Mike Black said: "What can I say on this wonderful achievement but, 'well done.'
"Every last man in this choir has worked hard to deliver that performance on the big stage. We now know what it takes to pick up a trophy, so let's go for the next one."
He thanked the musical team by adding, "To Matthew and Liz: it's hard to express the gratitude which I think every member of the choir feels towards you both for the patience and effort you have shown in bringing us to this point. Thank you doesn't seem enough, but it will have to do for now. We couldn't have achieved this without the two of you."
Just 24 hours after the win they performed again at the Christmas lights switch-on in Rawtenstall and then a busy run up to Christmas.
Booking forms to take part in next year's competition will be opened after Easter 2023.
For the full list of winners, visit: https://www.lancashire.gov.uk/choir-of-the-year/winners/