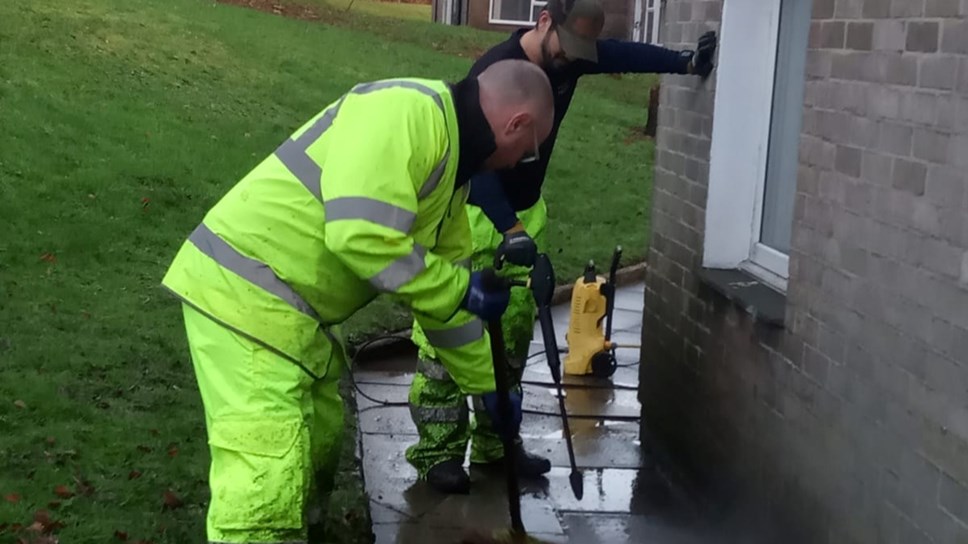 Business volunteers brighten up care home in time for Christmas
Volunteers have brightened up the outdoor space at a Pendle care home in time for Christmas.
The Favordale Home for Older People in Colne was revitalised, thanks to the efforts of The Lancashire Volunteering Partnership and volunteers at Yunex Traffic.
The team provided five volunteers (on 21 December) to paint garden benches, clear gutters, jet wash garden paths and more at the care home.
After a successful volunteering day, a second visit by the company is planned in January.
Sarah Williams, home manager at Favordale Home for Older People, said: "We would like to thank the Yunex Traffic team for this crucial work.
"This will enable residents and families to safely walk around the building or to their rooms and not slip.
"The home will also look much better when residents look out of their bedrooms, putting a smile on their faces just like the lovely guys."
The Partnership, which includes Lancashire County Council, has run several recent schemes as part of its Corporate Social Responsibility programme, which aims to ensure organisations can support their local community.
County Councillor Peter Buckley, cabinet member for Community and Cultural Services, said: "I'm very grateful that businesses across Lancashire are stepping up to support their local communities with the Partnership.
"Public service volunteering is essential for strengthening the quality and environment of Lancashire's care centres and I thank all those companies that are willing to help."
In September, the Partnership also teamed up with BT Group to help Adlington-based Grove House Home for Older People.
Volunteers made improvements to its equipment and garden, including new flower beds, benches, chairs, trellises and sheds.
Jena Lynn, home manager at Grove House, said: "When we were approached by the Partnership, we jumped at the chance for volunteers at BT Group to help us.
"After five hours of volunteering, we were thrilled with the results. All areas looked fabulous and make a huge difference to both the staff and residents at Grove House."
In November, volunteers from the companies Kier Group and Concrete Repairs Ltd made a team effort to transform the garden areas, repainting benches and planting daffodil bulbs ready for spring at Vale View Day Centre in Lancaster.
County Councillor Graham Gooch, cabinet member for Adult Social Care, said: "The crucial work by the Partnership provides valuable support across the county.
"Not only this, corporate volunteering really highlights the resilience of the people of Lancashire, always coming together to help those in need."
Any local businesses interested in getting involved with corporate volunteering can contact the Partnership's Development Team at lvpdevelopment@lancashire.gov.uk to discuss how they can make a difference in their community.
Notes to editors
Lancashire Volunteer Partnership was established in 2016 by public service organisations that wanted to provide one gateway into corporate volunteering.
Its' aim is to make volunteering for public services rewarding and to provide opportunities for people to make a real difference in their local communities.
Grove House Home for Older People, Vale View Day Centre and Favordale Home for Older People are all run by Lancashire County Council.