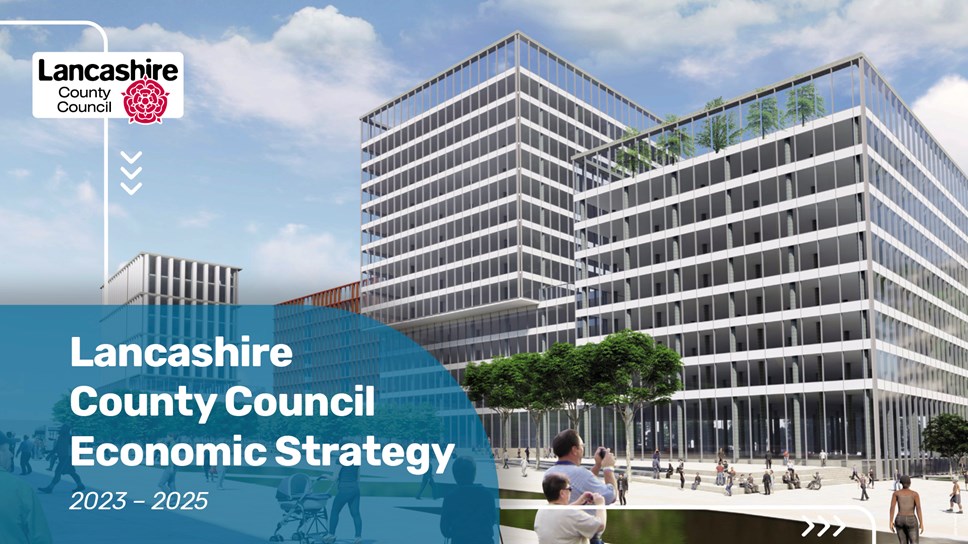 New blueprint outlines how Lancashire will unlock full economic potential
An ambitious blueprint outlining how Lancashire will unlock its full economic potential is expected to be endorsed by councillors next week.
As the birthplace of the industrial revolution, Lancashire was instrumental in leading the way for showing how modern economies could deliver growth and prosperity.
Despite current growth conditions, the medium-term projection for the Lancashire economy remains exciting, with the county boasting an established pipeline of major development and infrastructure that has the potential to secure more than £20bn of investment over the next decade.
To support the delivery of economic growth and prosperity – one of four headline priorities for the council – a new three-year strategy has been developed.
The strategy, which will run until 2025, sets out how we will meet the challenges and maximise opportunities for local economic growth. It presents a simple, high-level view of the council's immediate and medium-term priorities that will support and address activities that add most value in creating the conditions for growth and economic success across the county.
County Councillor Aidy Riggott, Cabinet Member for Economic Development and Growth said: "While there will undoubtedly be challenges ahead, the future of Lancashire's economy looks bright.
"Significant programmes of work that include multi-billion-pound developments and infrastructure projects are already in the pipeline, together with a mix of high-performing, well established businesses, with long and settled roots in Lancashire.
"We have a unique opportunity over the next three years to capitalise on new industries and new business locations across the county, to secure high value jobs and encourage further investment.
"The creation of new, quality opportunities will also contribute to our wider ambitions for health, regeneration, making Lancashire somewhere people want to live, work and visit."
The economic strategy highlights how work will support the local business community by progressing our major economic projects and delivery programmes at pace, as well as engaging with businesses to improve the focus and value we deliver for Lancashire. Priorities around transport planning, highways and digital infrastructure will also help to achieve these goals.
A skilled talent base will be critical to enabling Lancashire's economy to flourish, as it will enable business growth and attract inward investment.
County Councillor Jayne Rear, Cabinet Member for Education and Skills said: "At the heart of this strategy are the hard working and innovative people of Lancashire. We know the importance of education and increased opportunities for adults to reskill and upskill throughout their lives to be able secure good jobs that also meet the needs of our local economy.
"We also need to prepare for our future employment and skills forecasts by increasing demand for higher level skills, with a growing need for digital, tech, cyber and low carbon sectors.
"By working collaboratively with employers and education and skills providers across Lancashire, we can realise the full potential of Lancashire's businesses and assets and enable our people to maximise the opportunities on offer in our local labour market."
Designed to complement work with local government partners and other key stakeholders in the development of the sub-regional strategy 'Lancashire 2050', the new economic strategy will be the first of three closely linked strategies to be discussed by cabinet over the coming months. Strategies focussing on how we deliver environmental and transport priorities will follow.
This economic strategy also works alongside the Lancashire Skills and Employment Strategic Framework, which was refreshed in 2021.
Lancashire County Council's cabinet will be asked to endorse the new economic strategy at its meeting on Thursday 3 November.
You can read the Lancashire County Council Economic Strategy 2023 – 2025 here.