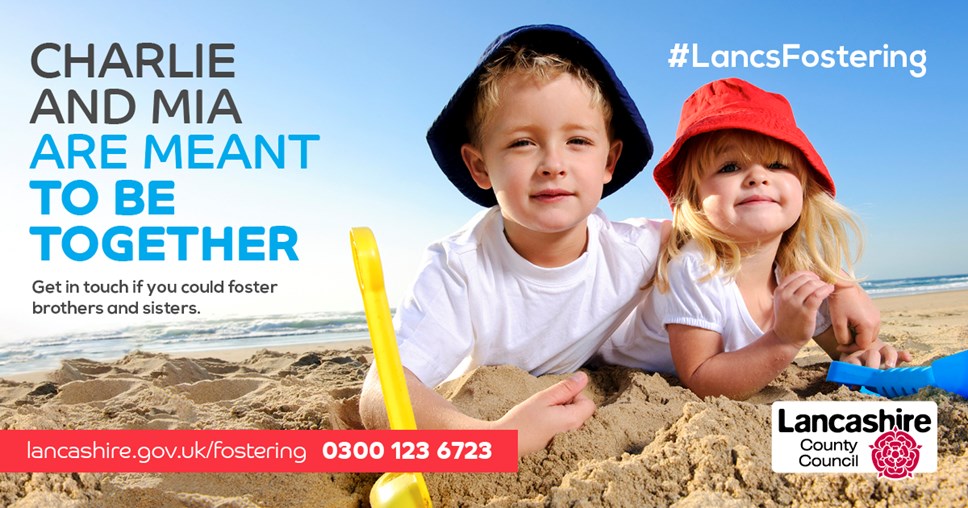 Call for more Lancashire foster carers
More foster carers who can foster brothers and sisters are urgently needed.
This is the stark message in a new Lancashire County Council campaign, which aims to keep siblings together when they need to go into foster care.
In the last month, the county council needed to find new foster families for 75 children. A third of these children were part of a sibling group.
Foster carers come from all walks of life. The council is looking for everyday people to do something incredible by providing a safe, stable, and caring home for a child. They need to have a spare room and must be over 21.
Foster carers receive an allowance of between £341 and £447 per week, for each child they care for.
When a sibling group of three or more children are matched and placed at the same time, the foster carers will receive an additional incentive one off payment of £1000, after the children have been successfully fostered for two months.
Fostering service staff provide financial and practical support and training, including courses at the county council's Foster Carer Academy and access to the Foster Carer Mentoring Programme.
There is also peer support through local groups, regular social activities and the Fostering Communities Project.
County Councillor Cosima Towneley, cabinet member for children and families, said: "Keeping brothers and sisters together in foster care is vitally important. The uniqueness of familial ties helps secure the children in times of crisis and can only be a good thing when looking to the future.
"This is a superb opportunity for people to make a huge difference to local children's lives and one they will find very rewarding. Of course, fostering children can be challenging, but there's plenty of expert support readily on-hand from colleagues in the county council's fostering team.
"Whatever your race, gender, sexuality, living arrangements, age and employment status, we want to hear from you.
"I'd like to thank all of our foster carers who provide a stable and loving home to children and, in advance, thank all of the new foster carers who sign up and successfully join us."
Foster carers who transfer from another agency will be fast-tracked through the process. They will be paid at the same level as they received from the agency.
There are several events where people considering fostering can meet foster carers and the county council team, who would be delighted to answer any questions you may have.
For more information about becoming a foster carer, call the fostering recruitment team on 0300 123 6723 or visit www.lancashire.gov.uk/fostering
Notes to editors
Case Studies
Foster carers who look after brothers and sisters all said how rewarding it is.
Debbie and Brian are one of the couples in Lancashire who have fostered a brother and sister: "Before we even went to panel, we had been matched with a brother and sister aged 7 and 8. We were excited to welcome them into our home and family as we already have our biological children who were 18 and 19. It was a really good match and they fitted straight in like they had always been part of the family.
"It has been good to keep them together as they are their own little support system and know what each other are going through. They have been with us just over a year now and even though caring for siblings does come with its own set of challenges, knowing that you are keeping them together helps you overcome these.
"The feeling that you know you are giving these children a safe and forever home is like no other."
Jonathan has fostered three sets of brothers and sisters: "As foster carers for Lancashire County Council for the last 11 years, my wife and I recognise that it's important to help keep sibling groups that come into care together.
"A young person's life is uncertain when they are removed from their parents or relatives, maybe even having to move schools, having to adapt to new ways of doing things with someone you now live with and you don't know what to expect.
"Having a brother or sister there with them, allows the transition to be shared between them as the constant thing that's always been.
"Young people usually cope better when they are together. It eliminates the worry and tensions of wondering where their siblings are, how are they being treated, will I see them again.
"We have managed over the past 10 years to keep 3 sets of siblings together, by offering a place that enables them to be together, share together, laugh together and most important, just be together."
Kathy looked after a little boy and had no hesitation in fostering his sister:
"We cared for Ryan previously. So, when his baby sister arrived, and we were asked to care for her, we agreed immediately. It's so important that these siblings stay together and watching them together is just so rewarding and such a joy."
Freddie Flintoff spots talented cricketer who lives with foster parents in Lancashire
Read our news release about the story of Adnan, a 16-year-old who lives with his foster carers in Lancashire. The young cricketer's talent was spotted by sporting hero Freddie Flintoff when making his recent documentary Field of Dreams:
https://news.lancashire.gov.uk/news/freddie-bowled-over-by-afghan-wonder-kid-who-is-turning-cricket-into-his-own-field-of-dreams