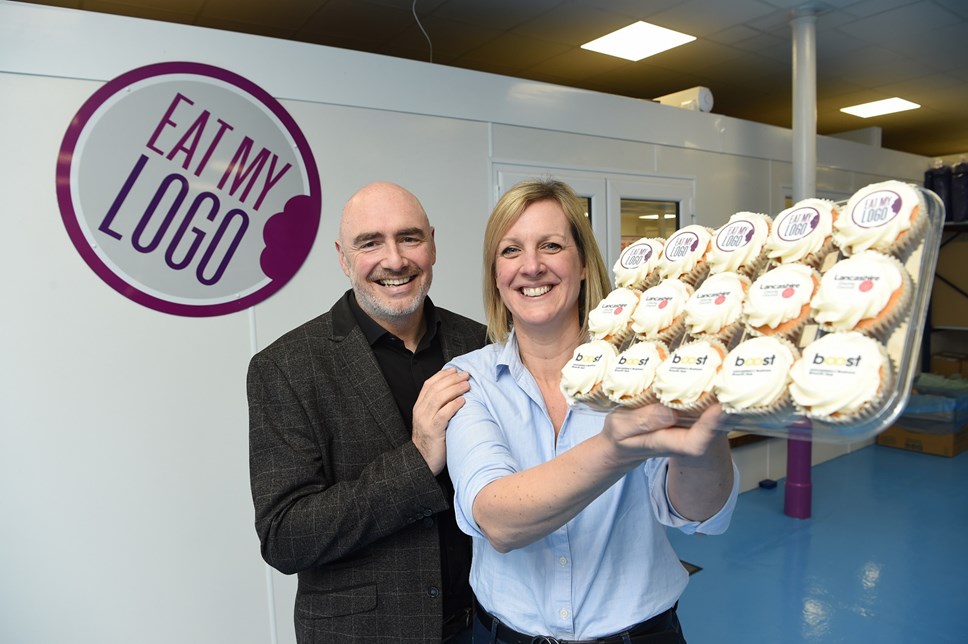 Chorley cake business rises to the challenge with a little help from Boost's Growth Mentoring programme
A Chorley cake manufacturer has grown turnover by a half and significantly increased its output by moving to a new facility following mentoring advice from Boost; Lancashire's Business Growth Hub.
Eat My Logo is a specialist bakery business that makes freshly baked bespoke cakes and biscuits. The business was formed in 2014 by Ruth Poar, primarily as a sideline to her celebration cake business after a customer requested that their business logo appeared on the cakes. It led to a change of business direction and is now led jointly by Ruth with her husband Andy.
Due to rapid growth in demand, Eat My Logo moved premises four times in its first five years to expand its production. Having previously benefitted from Boost support, the couple contacted the Growth Hub again in 2019 to seek specific mentoring advice to help with their expansion plans.
The service matched them with Stephen Turner, an experienced business director who had experienced similar rapid growth through his own business, Group 55. Stephen received support through Boost's Growth Mentoring programme in 2019 to help manage his own growth challenges.
Stephen's guidance helped Ruth and Andy gain a wider strategic view on the business. He advised them how they could expand through more proactive online marketing and also helped the business in relocating to a 9,500 sq ft facility at Yarrow Mill.
Andy said: "As a husband-and-wife team we spend an incredible amount of time working together but we don't always manage to devote focussed time to discussing the future of the business on a regular basis.
"With each opportunity to move, we'd find premises, get a refit and move, but we kept underestimating what we needed and not thinking big enough.
"Stephen was a great match as a mentor because he understood our situation. Having started a business from scratch himself, he'd experienced challenges similar to ours. Stephen gave us the confidence we needed to take the next steps with the business."
Boost is Lancashire's Business Growth Hub and is led by Lancashire County Council and the Lancashire LEP (Local Enterprise Partnership). It is supported by funding from Lancashire County Council, the European Regional Development Fund (ERDF) and the Department of Business, Energy and Industrial Strategy.
The Growth Mentoring Programme is a fully funded programme where the business is matched with a successful businessperson who will provide support to tackle the challenges business leaders and management teams are facing in managing and growing their business.
As a result of the mentoring, Eat My Logo experienced further rapid growth, hitting a turnover of £850,000 in 2019, employing 13 staff.
Faced with a significant downturn in their market due to Covid-19, Andy and Ruth pivoted their business to offer a greater range of sweet treats and biscuits which could be delivered to companies' staff by post.
This resulted in the company's three largest orders to date, 180,000 biscuits for a catering business, and contributed to the 50 per cent increase in turnover.
Ruth said: "Despite the challenges of working through the pandemic, it was still a great decision to move into the large bakery. The business is now back on track as the economy lifts out of lockdown."
Even though they faced the challenges of Covid, 2021 was a record year for the business with temporary staff brought in to meet demand. The business has continued to grow with an expected turnover £1.25 million in 2022 and a team of 20.
Growth mentor, Stephen Turner, said: "As a result of building a fantastic business, Ruth and Andy were going through challenging growth pains. Together we scoped out the merits of scaling up and the risks of choosing not to. Thankfully, Ruth and Andy made the right decisions, increased their risk exposure and it paid off – as we knew it would."
Ruth and Andy now have ambitious plans to sell their branded baked goods direct to trade, and to expand their offering to the hospitality and catering sectors. They also plan to develop two new web portals and are exporting overseas.
Nikki Hesford, managing director of The Small Business Academy, which delivers the Boost Growth Mentoring programme said: "Lots of Lancashire businesses have successfully innovated their products or routes to market during the pandemic and Eat My Logo is an example of a business which has managed to develop its online offering, with support from Boost's Growth Mentoring programme, which has led to strong growth.
"Whether you're an owner of a Lancashire business or part of a management team, Boost's Growth Mentoring programme can help you overcome your growth challenges and capitalise on opportunities. Get in touch with Boost to find out more about our expert mentors and their wide range of specialisms."
Notes to editors
*This press release was provided by Freshfield on behalf of Boost, Lancashire's Business Growth Hub
For further information, contact:
Jacqueline Ballard, Joel Durkin, Simon Turner, Freshfield
01772 888400 / jacqueline@freshfield.com / joel@freshfield.com / simon@freshfield.com
More information about Boost
Boost is Lancashire's Business Growth Hub and is led by Lancashire County Council and the Lancashire LEP (Local Enterprise Partnership). It is supported by funding from Lancashire County Council, the European Regional Development Fund (ERDF) and the Department of Business, Energy and Industrial Strategy.
The role of Boost is to help growth-hungry Lancashire businesses realise their potential by providing simple access to a range of leading-edge funded programmes, delivered by specialists with a track record of growing established and innovative start-up businesses. Boost also helps businesses access specialist private sector business support, as well as other nationally funded programmes, where relevant.
Since its inception in July 2013, Boost has provided growth advice and support to over 8,000 businesses across Lancashire, with many benefiting from tailored programmes of consultancy, grants or mentoring to support their growth. Boost has so far helped to create over 3,000 jobs and generated new economic activity valued in excess of £100m.
In December 2021, Boost secured £3.2m of new funding to run for a further 18 months from January 2022.
Boost has received £1.9m of funding from the England European Regional Development Fund (ERDF) as part of the European Structural and Investment Funds Growth Programme 2014-2020. The Department for Levelling Up, Housing and Communities is the Managing Authority for ERDF. Established by the European Union, ERDF funds help local areas stimulate their economic development by investing in projects which will support innovation, businesses, create jobs and local community regenerations. For more information visit https://www.gov.uk/european-growth-funding.
Growth Hubs and the Growth Hub Network - The 38 Local Enterprise Partnership led Growth Hubs across England bring together and simplify access to national and local business support. Supported by Government, Growth Hubs ensure that no matter the size, sector or maturity of a business they provide locally tailored business support and advice to direct businesses to the most appropriate organisations to assist with their specific requests.