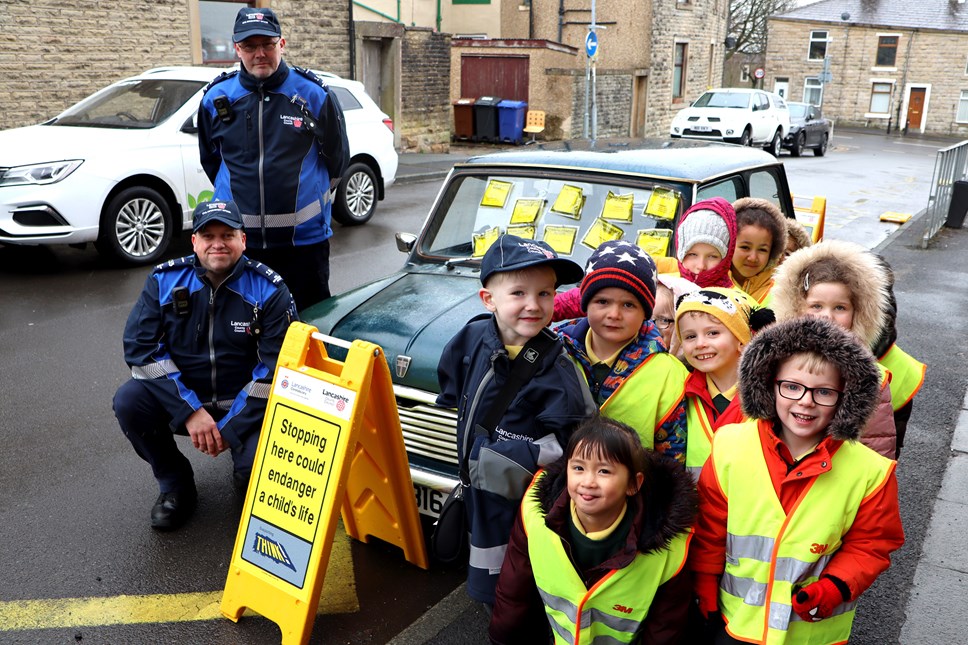 Civil Enforcement Officers enlist the help of children at Lancashire school
A car parked 'illegally' outside St Bartholomew's Primary School in Great Harwood has racked up hundreds of pounds worth of 'fines' following a special enforcement operation.
On Thursday 9 March, a mini was carelessly left on yellow zigzag lines by Lancashire County Council's Regulation and Enforcement Manager. It was subsequently plastered with penalty notices by reception class pupils during a visit from the council's parking enforcement team.
The team had been invited to talk to pupils about what it's like to be a Civil Enforcement Officer (CEO) and how they help to keep Lancashire's roads safe. The team described their daily routine, how their equipment works and demonstrated how to issue a ticket. They also faced a number of challenging questions including how early they get up in the morning and when they go to bed.
In addition to the educational exercise, the visit also had a serious side, introducing the class to the importance of road safety, and follows a series of visits to St Bart's from others who help the local community. The children have recently enjoyed meeting firefighters, nurses, dentists, and a school crossing patrol.
Peter Bell, regulation and enforcement manager at Lancashire County Council said: "It was great to be asked to go in and visit the school. The children learnt a lot from the CEOs coming in to tell them about the vital job they do, even if it did result in my car being covered in penalty notices!
"Of course, we didn't actually break any laws and the yellow zigzag lines outside schools are there for safety. We hope the children will remember our visit when they grow up, and how important it is not to park on them."
Joanna Owen, deputy headteacher at St Bartholomew's said: "Our reception class children really enjoyed their visit from the parking enforcement team. They asked some great questions, and particularly liked trying on the uniform and putting tickets on a naughty car.
"We've recently been learning all about people whose job is to keep us safe, and I'm very grateful to the parking services team for coming to see us."