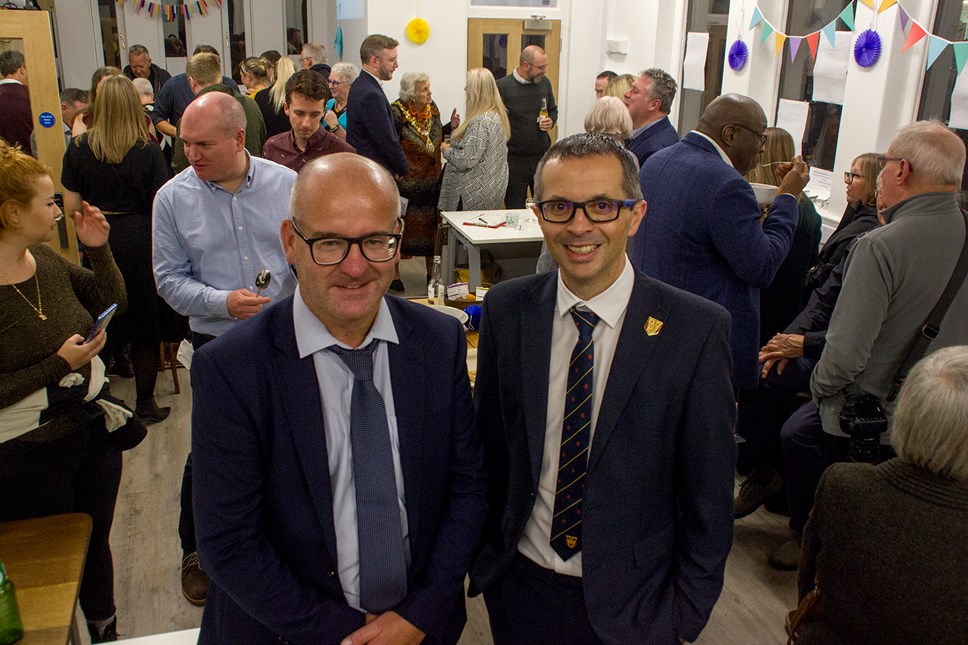 Community Renewal Fund projects now starting to deliver for Lancashire
The transformation of a neglected Grade II Listed building in Bacup is now complete, thanks in part to a Government fund that aims to help areas across the UK unleash their potential.
Based on the corner of Market Street and Union Street, the iconic building has been vacant for a number of years after falling into disrepair. Now known as The Alliance, the former Lancashire and Yorkshire Bank has been completely reimagined, undergoing a radical transformation.
The building now features a ground floor coworking space with desks to rent and meeting rooms, while the first and second floors provide flats, two for private rental and two for use by homeless charity the M3 Project, based in Rawtenstall. The refurbishment included the installation of Air Source Heat pumps to show how older buildings can be retro fitted to produce their own energy and reduce carbon emissions.
The project formed part of Lancashire's bid to the government's £220m UK Community Renewal Fund, which is intended to help 'level up' areas, including those places hardest hit by Covid-19, and support the UK's path to net zero carbon emissions.
Valley Heritage, a not-for-profit organisation that aims bring Rossendale's historic buildings back into use, is leading the project and successfully secured £261,849 from the fund.
From l-r, Cllr Shaun Turner, Cllr Aidy Riggott with Valley Heritage representatives at The Alliance in March
County Councillor Aidy Riggott, Lancashire County Council's cabinet member for economic development and growth, said: "The Community Renewal Fund is helping to deliver a host of innovative projects that will help create a more productive and more sustainable Lancashire.
"Valley Heritage have done an unbelievable job in reimagining this neglected building into what I am sure will be a major asset to Bacup.
"The transformation is staggering, and this is just one example of many projects that have benefitted from this vital funding that will are now starting to deliver for their communities."
Lancashire County Council led a local bidding and appraisal process for the Community Renewal Fund before submitting a bid to Government in the summer.
This ultimately secured £3.4 million for Lancashire, which was distributed between nine projects.
Burnley Borough Council was awarded £994,083 for its Growth and Innovation Fund, which will distribute grants businesses to help them recover from the pandemic. The East Lancashire Chamber of Commerce and Industry was awarded £700,000 to provide business support for firms developing new low carbon technologies and to help develop training for non-traditional construction roles.
Super Slow Way, a cultural development programme that covers 20 miles of the Leeds & Liverpool Canal corridor stretching through East Lancashire from Blackburn in the west, through Hyndburn and Burnley, and ending in Pendle in the east, was awarded £654,279.
Procure Plus Holdings, a not-for-profit organisation specialises in the procurement of goods and services for a wide range of social housing clients, was awarded £105,400 for the 'Building Lancashire' project, which aims to support people from across Lancashire into employment in the construction industry and allied sectors. The money will be used to fund non-traditional construction roles not covered by other funding, including low/zero carbon, heating, electrical and support roles.
Many of these projects are now complete or in their final stages.
Cllr Aidy Riggott during a recent launch event for The Alliance
To mark the completion of The Alliance, a celebratory launch event was held for partners, which included county councillors Aidy Riggott, Cllr Shaun Turner, cabinet member for environment and climate change, and Cllr Scott Smith, county councillor for Whitworth and Bacup.
Cllr Turner said: "Climate change requires everyone to pull in the same direction if we are to achieve the ultimate goal of a net zero economy.
"It requires innovative thinking, commitment and close collaborative working with our communities.
"That is what is being delivered by Valley Heritage and The Alliance, and I am pleased we have been able to play a part in this worthwhile project."