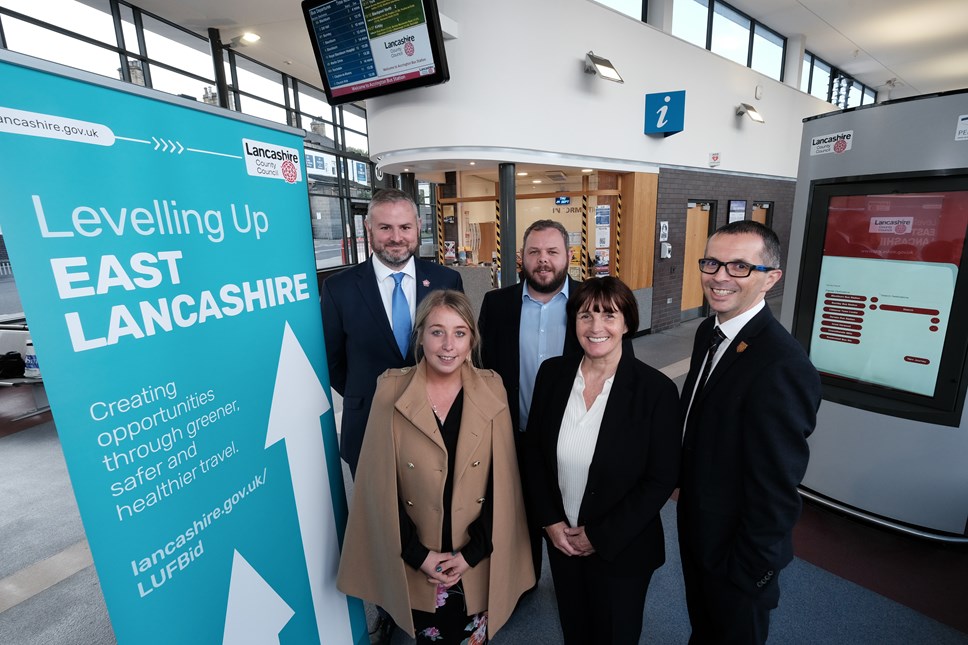 County awarded £50m Levelling Up Fund for ambitious East Lancashire schemes
Lancashire County Council has been awarded £50 million from the government's Levelling Up Fund following the submission of an ambitious bid last year.
The funding for the East Lancashire scheme has been announced as part of a wider package of £200million government awards for the county.
Lancashire's successful bid has been designed to develop a range of complementary public transport, walking and cycling projects that will significantly improve travel opportunities for people across East Lancashire, making them safer and greener.
The Levelling Up Fund is designed to invest in infrastructure that improves everyday life across the UK and support town centre and high street regeneration, local transport projects, and cultural and heritage assets.
A range of District and Unitary council bids from across Lancashire formed part of the 100 plus projects that received a share of the £2.1billion pot in round two of the government's flagship Levelling Up Fund.
Alongside the successful county council bid, government awards include £50 million to Lancaster City Council to support Eden Project Morecambe, as well as bids in Blackburn with Darwen and Blackpool.
Lancashire County Council has supported successful bids for Burnley, Pendle, Hyndburn and Preston including bespoke funding support from the council's £5million local Levelling Up Investment Fund and £12.8m Local Economic Recovery Fund.
With schemes in Burnley and Pendle receiving funding in Round 1 of the scheme, Lancashire's overall Levelling Up investment is in excess of £225 million from the government scheme to date.
After considering 600 potential transport schemes county-wide, the council selected themed interventions in the East Lancashire districts of Burnley, Hyndburn, Pendle and Rossendale focused on public transport, cycling, walking and liveable neighbourhoods. The funding will help deliver:
Changes to local streets, paths and open spaces to make local trips easier by walking and cycling
Faster and more reliable public transport to get people to work, education, shops, services and green spaces
Less reliance on our cars for local journeys
Improved road safety in local areas

County Councillor Phillippa Williamson, Leader of Lancashire County Council, said: "This funding is a fantastic and welcome boost for our county. A huge amount of work was carried out to identify the areas that would benefit the most from this Levelling Up Fund and it will make a real and positive difference to local communities.
"It will be invested in developing a range of complementary projects that, when linked together, will significantly improve the quality of life and opportunities for people across the county but particularly in Burnley, Hyndburn, Pendle and Rossendale.
"Thank you to everyone who took time to provide us with feedback that has helped us to shape our bid proposals. We will now look to progress these plans and work towards making them a reality."
Under our current timescales, we would expect the schemes to be finished by late 2025.
We are also developing new, ambitious projects aligned to the development of the county's pioneering new 'Lancashire 2050' strategy.
More detailed proposals will be developed by the respective project lead authorities with input from partners, residents and businesses.
Notes to editors
PHOTO: From left to right Rt Hon Andrew Stephenson CBE MP, Rt Hon Sara Britcliffe MP, Rt Hon Antony Higginbotham MP, CC Phillippa Williamson and CC Aidy Riggott. Sir Jake Berry MP was unable to attend the photo shoot due to other commitments
The bid, entitled 'Levelling Up East Lancashire. Creating opportunities through greener, safer and healthier travel' focuses on three themes:
Liveable Neighbourhoods – making residential areas safer for walking and cycling and making neighbourhoods more attractive by connecting places through greener walking and cycling routes.
Public Transport Service Improvements – upgrading public transport facilities, and reducing journey times to work, training and education.
Active Travel – improving walking and cycling facilities, connecting residential areas with places of employment, shops and leisure facilities – all helping to improve the health and well-being of local people.
Find out more at Lancashire's Levelling Up Fund Bid - Lancashire County Council