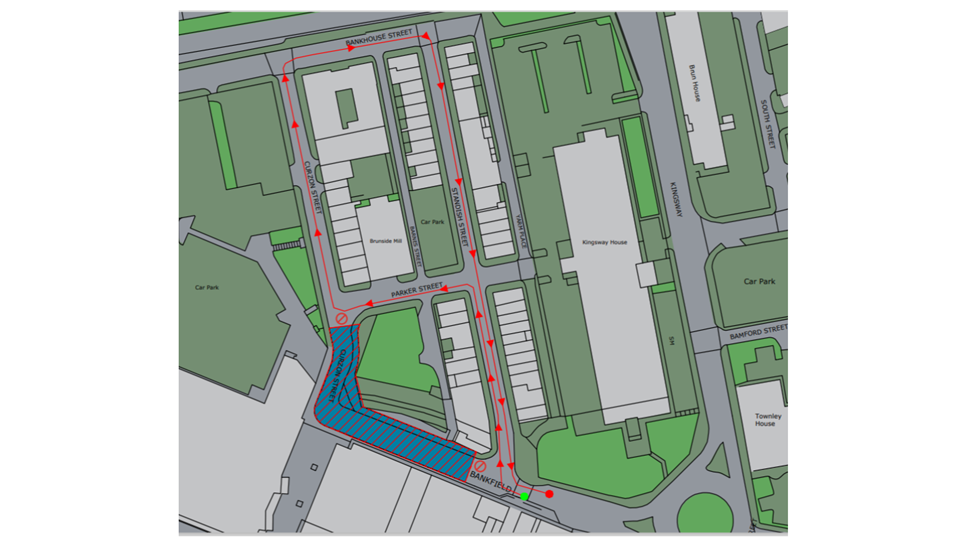 Curzon Street in Burnley to close for essential strengthening work
Work to replace deteriorating widenings on either side of the masonry arch on Curzon Street in Burnley is set to begin on Monday 16 January.
The bridge is located under the road on Curzon Street, close to Primark at the T-junction where it joins onto Bankfield and the pedestrianised area of the town centre.
Some roads will need to be closed and temporary traffic arrangements will be put in place while this work is ongoing.
Bankfield will be closed to all vehicles from its junction with Standish Street, (except for access for delivery vehicles into the Market Hall).
Curzon Street will be closed from its junction with Bankfield up to the junction with Parker Street.
To allow for this the southern section of Standish Street will become two-way and on street parking will no longer be permitted.
The pedestrian route on the southern footway of Bankfield to Charter Walk will remain open.
The road will be closed for 11 months, while delivery access to the Market Hall will remain open.
Lancashire County Council has written to nearby businesses to make them aware of the work.
The first stage of this work, to redirect gas lines, was completed earlier this year. The rest of the project was organised to re-start in January, to minimise the impact on shops, shoppers and local businesses during the festive period.
County Councillor Rupert Swarbrick, cabinet member for highways and transport, said: "This is a major bridge, which carries the highway over the River Brun. Its condition means that it needs restorative work to ensure that it remains safe in the future.
"We held back on the work until January to ensure that the work would not affect businesses, shops and shoppers in the run up to Christmas. We are aware that it's been a hard year for many retailers and we were keen to minimise the impact of the work.
"We are sorry for any inconvenience and we will do everything we can to keep disruption to a minimum."
Notes to editors
The work is set to begin on Monday 16 January.