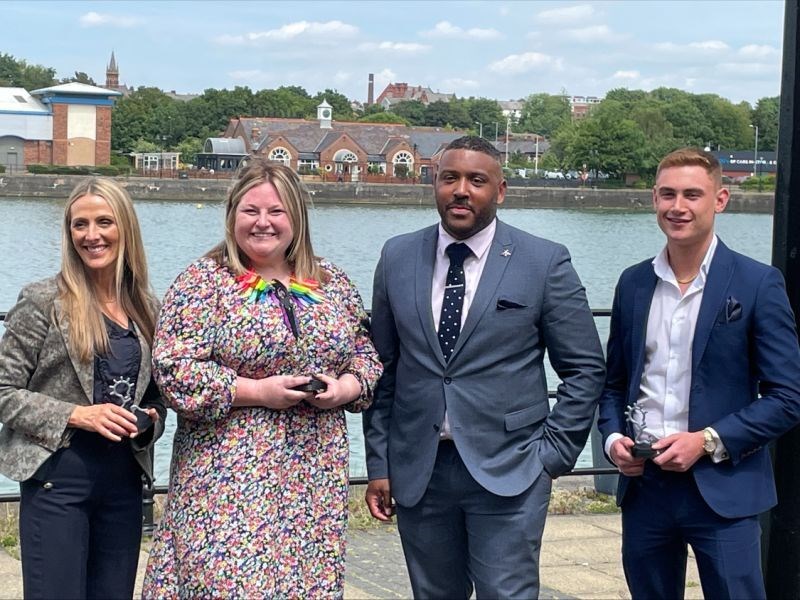 Entrepreneurs share £30k after impressing Lancashire Innovation Challenge judges
Three innovative entrepreneurs have secured a slice of a £30,000 prize pot after impressing judges in Lancashire County Council's Dragon's Den-inspired competition.
The Lancashire Innovation Challenge was developed by Innovate Lancashire, part of the Business Growth Team at Lancashire County Council with support from Shout Network and Create Education Project.
Held at Shout Network's offices at the Docks in Preston, the final saw six finalists present their ideas to a fiery panel of judges to compete for investment and mentoring support. The event was hosted by Aaron Willis, from Chorley, who featured in the 2022 season of The Apprentice.
First prize went to Gemma Connolly from Scoff Paper, which sells personalised, edible cards for dogs. Gemma impressed the panel with how far she has come already, getting her product into large retail chains such as Clintons Cards and B&M, with eyes now on the online market.
Second place went to Susanna Bocccaccio from Brilliant Trees Media, who has come up with a way to allow young children to express emotions and look after their wellbeing.
Conor Walsh took third place, with a novel invention that supports electricians and streamlines part of their working day, while reducing waste, something he is especially passionate about.
Gemma won £15,000; Susanna won £10,000 and Conor won £5,000. All the contestants will also get six hours of mentoring support and got to take home a trophy each.
Some of the finalists who didn't take home any prize money, but impressed nonetheless, included Paul White, co-founder of The Modern Milkman. Paul brought his new venture before the judges, telling them he sees a gap in the market for window cleaners and setting out how he will bring his experience from his modernised milk delivery service to this new market.
Roger and Theo Tech demonstrated to the panel how small businesses can utilise cloud technology without the big budget of large businesses, while another company presented their plans for a new kind of mobility scooter that is safe to ride on pavements.
During the morning we also showcased some of those who didn't quite make it to the final.
Boost, Lancashire's Business Growth Hub, which is led by Lancashire County Council and the Lancashire LEP, Access to Finance Lancashire, also attended the event to offer support.
County Councillor Aidy Riggott, cabinet member for economic development and growth at Lancashire County Council, has congratulated this year's entrants.
CC Riggott said: "A huge congratulations to all of the entrants who took part in this year's Lancashire Innovation Challenge, especially to our winners.
"Supporting our businesses to realise their ideas, to grow and flourish, is a key priority for the county council.
"Lancashire is brimming with innovation, as was evident by the impressive ideas and products brought before the judges this year."
Our judging panel for the Lancashire Innovation Challenge final consisted of Vanessa Robinson Hoy, Innovation Lead, Lancashire County Council; Jane Binnion from the Growing Club and LEP Innovation board member; Judson Smythe, Technical Director at MGS Plastics and LEP Innovation Board Member; Paul Croft; Managing Director of Create Education Project; and Michael Stewart from Simple Insights.
The winners and their prize money were as follows:
1st Gemma Connolly from Scoff Paper (£15,000)
2nd Susanna Bocccaccio from Brilliant Trees Media (£10,000)
3rd Conor Walsh from Reel Help (£5,000)
Notes to editors
Caption:
From left to right, Susanna Bocccaccio, Gemma Connolly, Aaron Willis and Conor Walsh