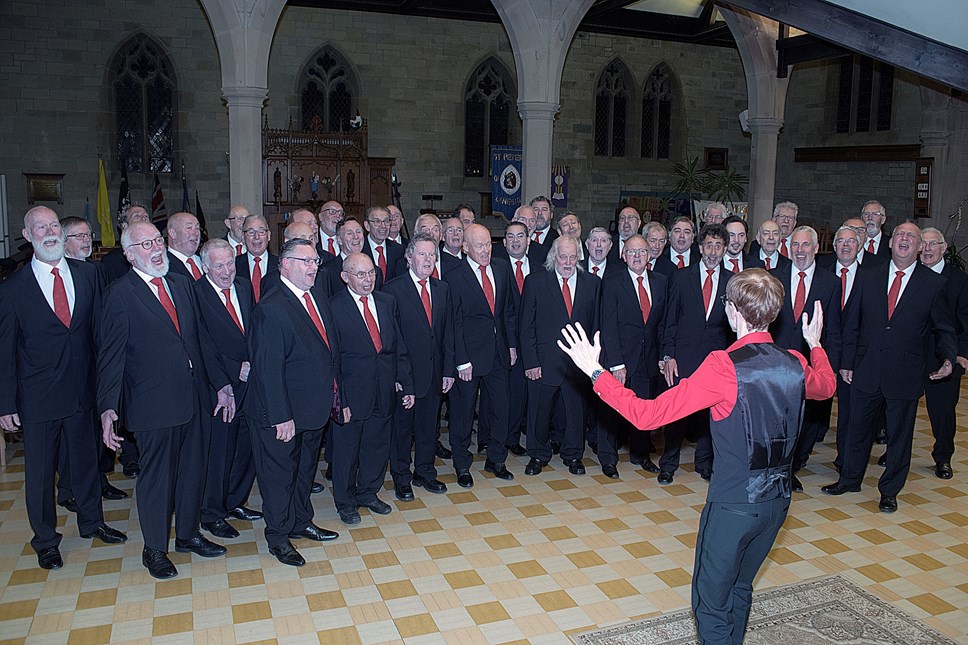 Competition launches to find Lancashire's best singing voices
The second annual search to find Lancashire's top choral singing talent is set to launch today (Thursday 16 March).
Lancashire Choir of the Year was held for the first time in 2022. The competition aims to encourage a wide range of choirs from communities, workplaces and schools to come together to showcase their love of singing.
Open to people from Lancashire, Blackpool and Blackburn with Darwen, the popular contest sees choristers put their skills to the test, recording their performances on video in a bid to reach the finals.
People of all abilities from budding baritones to soaring sopranos are welcome to take part. Schools can enter choirs including pupils aged 12 and above and non-school based choirs can include people of all ages.
A panel of top singing professionals and County Councillor Phillippa Williamson, leader of Lancashire County Council, will judge the videos and pick the winners.
These will go through to a live final on the week commencing November 20, 2023. The final has been timed to take place just before Lancashire Day (27 November). They will once again be compered by professional vocalist Tim Uffindell.
The competition will culminate in live performances from the finalists and the panel will announce the overall winner, as well as runner up prizes and a 'People's Choice' award.
Dressed to the nines, all of the choirs gave the performance of a lifetime when they took to the stage at the Charter Theatre in Preston, each performing not one, but two, show-stopping numbers live at the first finals in November 2022.
After much anticipation, Rossendale Male Voice Choir was named the winner in an explosive round of applause, with the award presented by County Councillor Peter Buckley, Lancashire County Council's cabinet member for community and cultural services.
In addition to the trophy, the choir was awarded a recording session and professionally led singing workshop in the splendid surroundings of Lancaster Priory!
Rossendale Male Voice Choir's events secretary Paul Heaton said: "We absolutely loved taking part in the competition and were delighted to reach the finals – and to win was something else!
"We sang the Drunken Sailor, which is funny but hard – at times, all four sections are singing different parts at the same time! We also tried to be as quiet as we could for our second song, Softly as I Leave You, and we were beyond thrilled to win!
"We really enjoyed the recording session in Lancaster in January, which we are due to stream in a few months. We have created records before but now we are moving with the times and people prefer streaming.
"If you are thinking of taking part, do it now! It's an amazing way to celebrate the life of choirs. Singing in choirs is good for your breathing, posture and it's a lovely way to make friends too."
County Councillor Peter Buckley added: "This amazing, popular competition was created so that we could shine a light on all of the wonderful singing talent we have in Lancashire, and to celebrate the joy of song.
"Singing brings people of all ages from different communities and backgrounds together, and this was no more evident than at the grand final of last year's competition at the Charter Theatre.
"Enter your choir now and join the talent from across the county. Each stage of the competition is exciting and fun, and you have the chance to win a great prize."
Tag us in your social media posts using the hashtag #LancsChoirOfTheYear2023
For more information about the competition, including terms and conditions, and to see previous finalists' performances, visit www.lancashire.gov.uk/choiroftheyear
Notes to editors
Notes to Editors:
"The competition provided a target and a focus for the Choir as we emerged from the uncertainties and interruptions of the pandemic." Aughton Male Voice Choir
"We are a new choir and this was our first competition." Clitheroe Parish Church Amateur Operatic Dramatic Society Show Choir (CPCAODS Show Choir)
"This was a wonderful, celebratory event of local singing talent." Red Rosettes Show Chorus
"The opportunity to level your choir against others is useful and aspirational for future performances and the development of the choir.
"A wonderful and challenging experience which has not only brought the choir together and improved their sound and quality of singing, but also cemented friendships and inspired a new generation of singers…" Lancaster Royal Grammar School Choir
"It was great to be part of such a great event. It was a fantastic experience, and we enjoyed the other choirs." Aughton Male Voice Choir