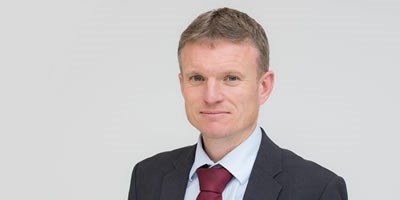 Executive Director set to leave council
One of Lancashire County Council's most senior officers is set to leave the authority to become Chief Executive of a North West-based council.
Stephen Young, Executive Director of Growth, Environment, Transport and Community Services, was confirmed as the designate Chief Executive of Halton Borough Council at a meeting of its full council last night. (Wed)

Mr Young joined Lancashire County Council in April 2018 and since arriving has focused on proactively promoting the county as a place to do business and grow the county's economy while also improving services, such as highways and waste recycling, for residents.

One of his key areas of work has been to help create a pipeline of economic development projects for Lancashire now worth several billion pounds.

These include projects such as an elite and community cricket facility for Lancashire Cricket at Farington, Eden Project North in Morecambe and the multi-million pound Cyber Task Force, which is set to move to Samlesbury.

Mr Young said: "I will obviously be very sad to move on from Lancashire County Council but I am proud of all I have achieved while working for the authority.

"The opportunity to step up to the position of Chief Executive is something I am really excited about and I am looking forward to the challenge.

"I would really like to thank all those I have worked with over the past three years, especially for their dedication and commitment during the pandemic.

"They have provided first class services and kept the county moving despite very difficult circumstances, and I am very grateful for their contribution which has been outstanding."

Angie Ridgwell, Chief Executive of the county council, said: "I'm really pleased for Stephen and we wish him the very best in his new role. I would like to thank him for all his efforts in raising the profile of Lancashire, and helping to bring major projects and funding to the county.

"His role is a key position within the council with a responsibility for areas including highways, economic development, planning, public transport and waste management.

"For the past four years he has been instrumental in providing the best possible services to the people of Lancashire, and we are sorry to lose such a talented officer.

"He is a great example of how Lancashire invests in its people and makes it possible for them to move on to bigger challenges thanks to the expertise and skills they gain here "

The recruitment process for Mr Young's successor is set to be launched shortly.