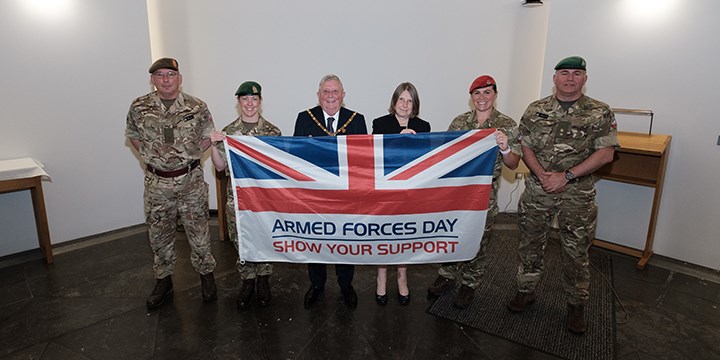 Flying the Flag for Armed Forces Day
Lancashire County Council and other local authorities across the County will raise a special Armed Forces Day flag on Monday 20 June next.
The flag shows their support and appreciation for the contribution made by our servicemen and women past and present, and for the wider Armed Forces community of families, veterans and cadets.
The raising of the Armed Forces Day flag marks the start of a week of celebrations including the Annual Reserves Day on Wednesday 22 June, culminating on Saturday 25 June with the Armed Forces Day national event in Scarborough, as well as hundreds of smaller gatherings across the UK.
Representing Her Majesty's Lord-Lieutenant of Lancashire, former High Sheriff, Mrs Catherine Penny DL, said:
"Once again, Armed Forces Day flags are being raised all across Lancashire to acknowledge the debt we all owe to our servicemen and women, and to our service veterans and this year has a particular poignancy as we commemorate the 40th Anniversary of the Falklands War.
"We owe a great deal to the bravery of these men and women, and we're proud to be able to recognise their dedication and service."
Mrs Penny will attend a small ceremony at County Hall in Preston along with the Chairman of Lancashire County Council, County Councillor Peter Britcliffe. They will be joined by the County Council's Armed Forces and Veterans Champion, Alf Clempson; The Reverend David Owens from Preston Minster, as well as representatives from the Royal British Legion, Armed Forces Group, soldiers from Fulwood Barracks, senior council staff and county councillors.
Other Flag raising events will be taking place on the same day in each Lancashire district, organised by district councils and attended by a member of the Lancashire Lieutenancy. For information of the event taking place in your district, please contact your local council.
For details about Armed Forces Day visit www.armedforcesday.org.uk.
Notes to editors
Photographers will be available on Monday upon request.