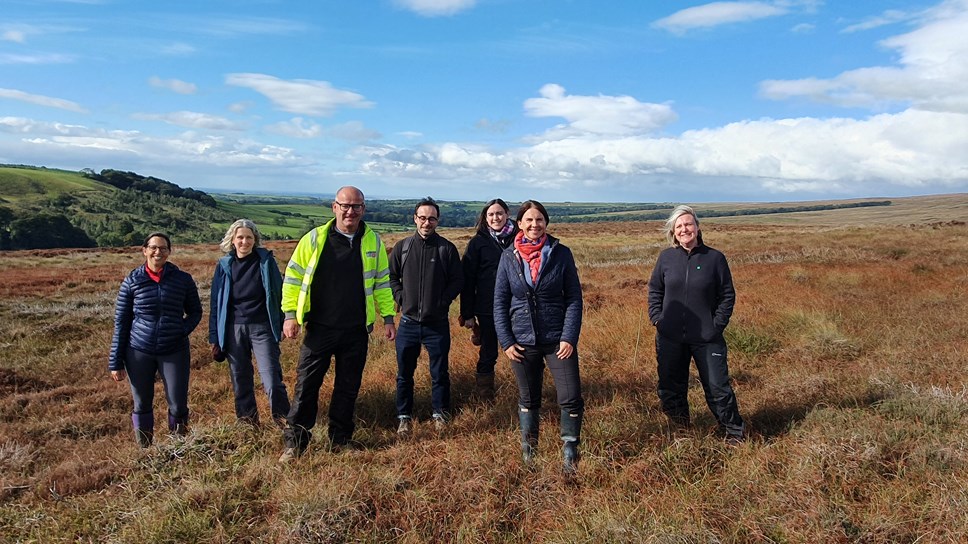 Forest of Bowland hosts MP peatland visit
Lancashire has secured £1.4m investment to restore peatlands, as part of the UK's efforts to tackle climate change.
Lancashire's peatlands have the potential to capture thousands of tonnes of CO2.
Trudy Harrison MP, Parliamentary Under Secretary of State for Defra, recently visited Grosvenor's Abbeystead Estate in the Area of Outstanding Natural Beauty (AONB) to see how the government funding is being put to good use.
She was joined by representatives from a number of local organisations to discuss the restoration of Lancashire's peatlands, which is being carried out as part of the wider Great North Bog West Project.
Restoration of these areas is vital as healthy peatlands are resilient and ecologically diverse habitats that provide benefits for people and nature.
County Councillor Shaun Turner, cabinet member for environment and climate change and chair of the Forest of Bowland AONB Joint Advisory Committee, said: "We're pleased to have secured £1.4m of funding for Lancashire from the Government's Nature for Climate Peatland Restoration Grant Scheme, which means the Forest of Bowland AONB Partnership can continue working with the county council and local partners to restore this important natural asset across our county.
"It is crucial that we work together to restore and maintain peatlands across Lancashire and the Forest of Bowland AONB project is a key part of our plans.
"Restoring our peatland will reduce carbon emissions and even capture more CO2 from the atmosphere, offsetting the carbon that is produced from burning fossil fuels.
"Research shows that restored peatlands are more effective at slowing water that flows from the fells, helping to make our natural environment more resilient to flash flooding.
"Holding water on the peatlands for longer is a double win – it is also beneficial for the habitat itself as keeping peat wet protects it from erosion, drought and promotes the growth and resilience of specialised bog vegetation like sphagnum mosses.
"Restored peat also reduces the severity and impact of moorland fires such as the ones we saw on Winter Hill in recent years."
The Great North Bog West (GNBW) project is a joint peatland restoration project between the Lancashire and Cumbria Peat Partnerships. Key organisations involved with the partnerships are Cumbria Wildlife Trust, the Forest of Bowland AONB, National Trust, United Utilities, Grosvenor's Abbeystead Estate and Lowther Estates.
For more information about the Great North Bog project, visit www.reatnorthbog.org.uk
Notes to editors
***PHOTO CAPTION***
Group photo of key partners from Lancashire's peatland project including County Councillor Shaun Turner (third from left) and Trudy Harrison MP (second from right)
"The Great North Bog is a landscape-scale approach to upland peatland restoration and conservation across nearly 7000 square kilometres of peatland soils in the Protected Landscapes of northern England."
Lancashire's peatlands
Lancashire's peatlands are a key natural asset that help us to offset carbon emissions, as sphagnum moss absorbs CO2 from the atmosphere.
They help to tackle flash flooding, with some studies showing that water drains from areas where peatland has been restored five times slower than in other areas.
Restored peatland ensures that more water is retained and protects moorland against the impacts of wildfires, which can start in extreme warm weather, which we are now experiencing more in the UK.
Growth of specialised bogland vegetation such as sphagnum mosses, which grow on the restored peatland, hold more water and contribute to the creation of new peat.
Peatlands are also crucial to biodiversity.
Bowland's peatlands are home to rare upland breeding birds, such as Hen harrier, Merlin and Ring Ouzels