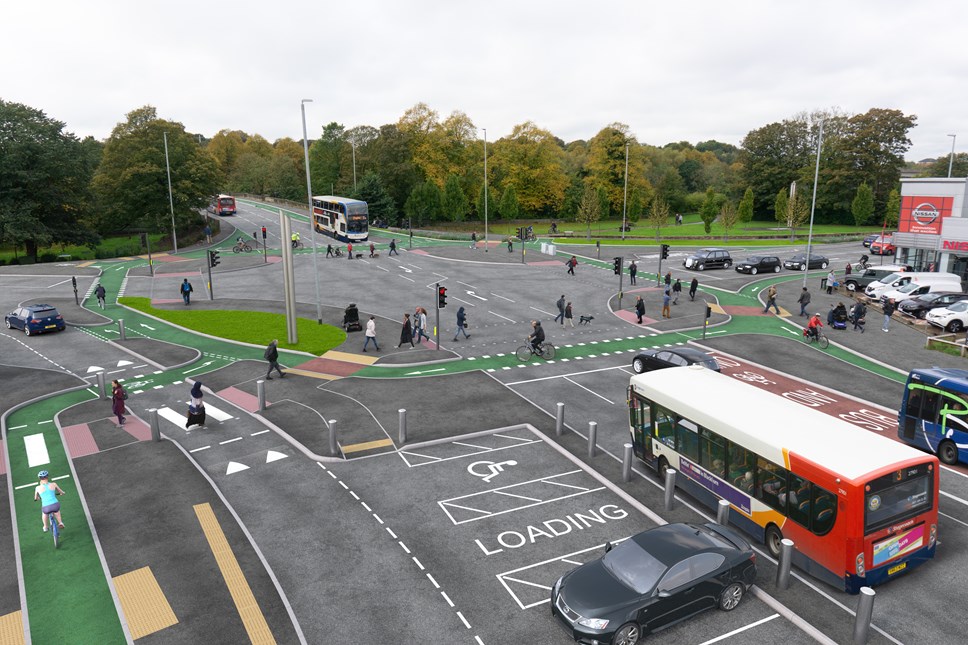 Innovative cycle-friendly junction gets the go-ahead
Lancashire County Council's cabinet has given the green light to an innovative new type of junction designed to make life easier and safer for pedestrians and cyclists.
The CYCLOPS junction features an orbital track circling the junction to separate cyclists from general traffic, and is a key part of the active travel corridor being established between Penwortham and Preston.
A report to this week's cabinet meeting outlined responses to formal consultation carried out on the proposed scheme in April. This followed an earlier public engagement exercise giving people the chance to find out more about the plans, and have any questions answered.
The junction upgrade is part of the Penwortham to Preston Cycle Superhighway scheme, which will improve facilities for those cycling or walking the mile between the Cop Lane junction and Preston Railway Station. The CYCLOPS junction improvements at Broadgate form a key part of the active travel corridor between Penwortham and Preston.
The scheme aims to make it easier and safer for pedestrians and cyclists to use this busy junction, as well as improve safety for people using the Preston Guild Wheel route which crosses the junction. The work is being funded by the Department for Transport's Active Travel Fund (Tranche 2).
CYCLOPS is an abbreviation of Cycle Optimised Protected Signals, a unique junction type which separates pedestrians and cyclists from motorised traffic, reducing the risk of collisions or conflict. The award-winning concept was first developed by Transport for Greater Manchester, and this will be the first time it has been used in Lancashire.
The main feature is an external orbital cycle track which circles the junction and protects cyclists from general traffic, whilst allowing everyone to use the junction safely. Cyclists can make a right turn at the junction and are able to complete the turn in one movement (dependent on signal timings) – removing the need to cross traffic lanes or make the turn in multiple crossing stages.
County Councillor Charlie Edwards, cabinet member for highways and transport said: "I'm very pleased that we are at the forefront of using new techniques such as the CYCLOPS junction to encourage more people to walk and cycle.
"Currently, pedestrians and cyclists have no option but to cross the traffic, which can lead to conflicts with vehicles, and can be intimidating, creating a potential barrier to people choosing to walk or cycle.
"This new type of junction is designed to be safer and easier by providing some separation between cyclists and vehicles, and allows cyclists to cross efficiently rather than in stages as they wait for other vehicles to go first.
"This junction is a key part of the wider scheme to encourage active travel along this Penwortham to Preston corridor, and will complement the improvements we've already put in place.
"I'm grateful to everyone who engaged with and responded to the consultation which we've carried out over recent months, and look forward to seeing work get underway in the autumn."
If you would like to find out more this scheme and Lancashire's plans to improve active travel opportunities across the county, please visit lancashire.gov.uk/activetravel
Notes to editors
Cllr Edwards has recorded a short interview video on the new scheme which is available at https://youtu.be/V2wkLwpKwUY