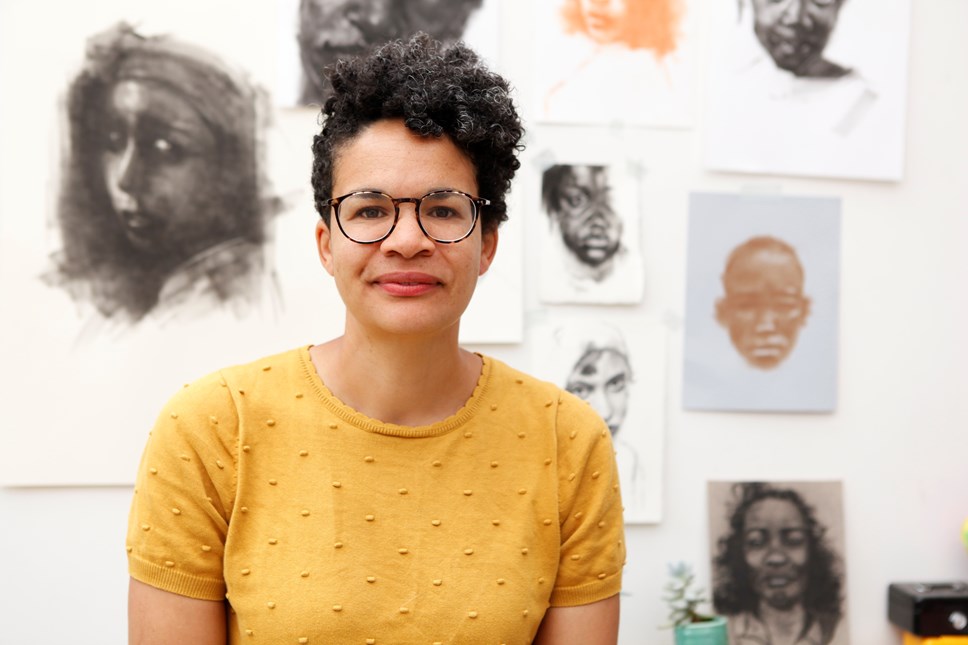 Judges' Lodgings Museum teams up with Kendal artist Lela Harris for Facing the Past project
Judges' Lodgings Museum has teamed up with Kendal artist Lela Harris to create four new portraits of historic Black Lancastrians, as part of the Facing the Past project.
Lela was previously commissioned by The Folio Society and personally selected by Pulitzer Prize winning novelist Alice Walker, to produce illustrations for the new illustrated edition of her classic novel, The Color Purple.
Lela's new works will depict real Black individuals from history using research resources such as the descriptions on contemporary adverts for runaways escaping slavery that feature in the University of Glasgow's Runaway Slaves in Britain database.
The portraits will be displayed alongside Judges' Lodgings' existing fine art collections, which include works by George Romney, Thomas Lawrence and Joseph Wright of Derby. The museum also holds the largest collection of Gillows furniture currently on public display in the world.
The new commission is part of a collaborative project to reveal the stories of the enslaved people who came to or through Lancaster and will involve workshops and an exhibition by young people at the museum. In the 18th century Lancaster was the fourth largest slave trading port in the country.
Judges' Lodgings, which is run by Lancashire County Council Museum Service, is one of the first recipients of the Association of Independent Museums (AIM) New Stories New Audiences funding, part of the National Lottery Heritage Fund, for its Facing the Past project.
Facing the Past is a partnership project between Judges' Lodgings, Lancaster Black History Group, Lancaster University and the University of Central Lancashire (UCLan), and will explore the legacy of the city's involvement in the Slave Trade and West Indies trades.
Lynda Jackson, museum manager of Judges' Lodgings, said: "We're excited to work with Lela Harris, who managed to stand out from a number of very high-quality submissions.
"The panel was hugely impressed both with Lela's artistic skill and her ability to create portraits based on historical archival material.
"We cannot wait to see what she will create for visitors at Judges' Lodgings."
Lela's work on The Color Purple included the creation of seven illustrations, book cover and slipcase design for the first illustrated edition.
It involved extensive research using the New York Public Library online archive, looking through photographs commissioned by The Farm Security Association, which focus on the lives of Black sharecroppers and migratory agricultural workers in the USA during the 1920-30s.
Lela's book cover for The Color Purple was recently shortlisted for the prestigious V&A Illustration Awards. Her selected portraits have also been successfully exhibited at the annual Pastel Society Exhibition 2022 and short-listed for the Derwent Art Prize 2022.
Speaking about her latest commission, Lela said: "I'm absolutely delighted to have the opportunity to work on such an important project in partnership with Judges Lodging's, Lancaster Black History Group, Lancaster University and the University of Central Lancashire.
"It will be such an honour to shine a light on the lives of historic Black Lancastrians who have, for too long, been hidden by history."
Facing the Past is part of a £75,000 project to redisplay the story of Lancaster's famous furniture making firm of Gillows and engage with the city's troubled history with slavery. The portraits have been supported by Art Fund UK and the Association of Independent Museums.
County Councillor Peter Buckley, Lancashire County Council's cabinet member for community and cultural services, said: "Facing the Past is a culturally significant project that will reflect on the role Lancaster played in the transatlantic slave trade and of the enslaved people who came to the city.
"It is important that we choose the right artists to work with in order to tell the story of Black Lancastrians forgotten by the history books.
"We were really impressed with Lela Harris' previous work, and we feel like this project will provide her the platform to produce some of her best work yet.
"We're excited to partner with Lela and I am looking forward to seeing her work on this project."
Notes to editors
Judges' Lodgings is a unique historic house and museum in the city of Lancaster – close to its famous castle. It is Lancaster's oldest town house and was once home to judges who worked in Lancaster Castle. It is now home to an extensive collection of Gillow furniture from beds to billiard tables. Gillow was a major British furniture maker in Lancaster for over 200 years. It is one of six museums operated by Lancashire County Museum Service which aims "To collect and preserve Lancashire's diverse heritage and to make it accessible to everyone through high quality cultural experiences" and part of Lancashire County Council which aims to make Lancashire the best place to live, work, visit and prosper. www.lancashire.gov.uk/museums
Art Fund is the national fundraising charity for art. It provides millions of pounds every year to help museums to acquire and share works of art across the UK, further the professional development of their curators, and inspire more people to visit and enjoy their public programmes. In response to Covid-19 Art Fund made £3.6 million in urgent funding available to support museums through reopening and beyond, including Respond and Reimagine grants to help meet immediate need and reimagine future ways of working. A further £2 million has been made available in 2021 for Reimagine projects. Art Fund is independently funded, supported by the 130,000 members who buy the National Art Pass, who enjoy free entry to over 240 museums, galleries and historic places, 50% off major exhibitions, and receive Art Quarterly magazine. Art Fund also supports museums through its annual prize, Art Fund Museum of the Year
Further details about AIM
The Association of Independent Museums is a charity which supports museums in the UK. The New Stories New Audiences is a new grant scheme for AIM small museum members funded by National Lottery Heritage Fund. It aims to inspire museums to stay relevant to their audiences and to increase their impact by identifying new stories and by working with a new partner, to work differently and to try something new.
For more details about Judges' Lodgings visit https://www.lancashire.gov.uk/leisure-and-culture/museums/judges-lodgings/