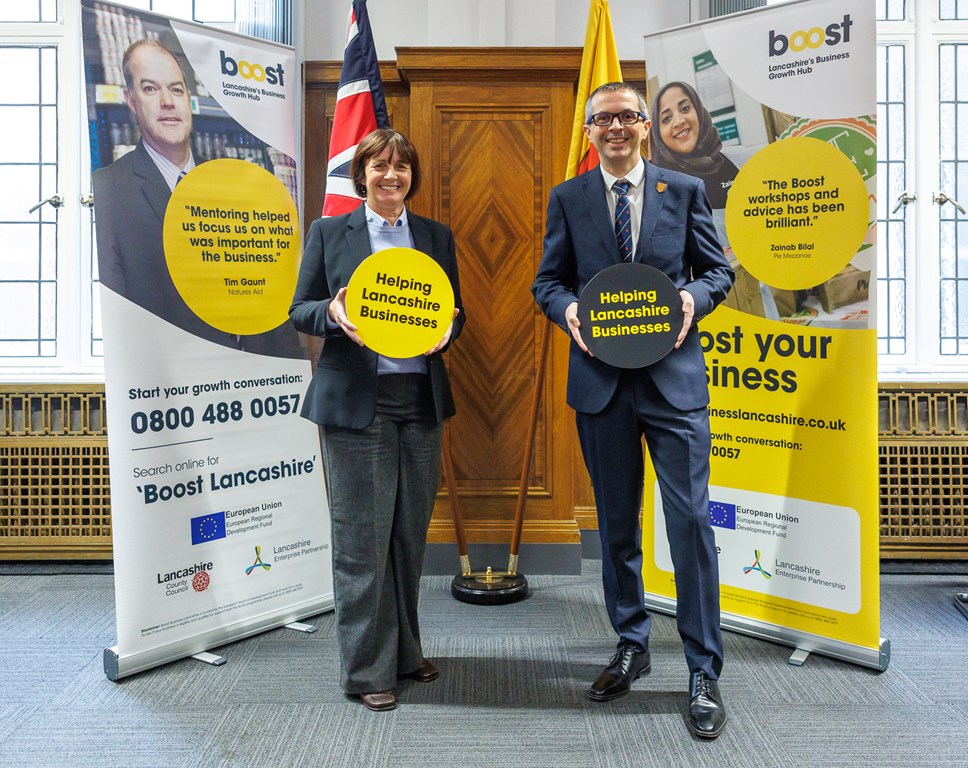 Lancashire business owners urged to talk to 'brilliant' Boost as part of support drive
The leader of Lancashire County Council has issued a call to action to Lancashire businesses to tap into the funded business support services delivered by its Growth Hub, Boost.
The call by Councillor Phillippa Williamson is part of a new Helping Lancashire Businesses campaign, aimed at increasing its support to businesses across the county in 2023.
Lancashire County Council is the lead body for Boost; Lancashire's Business Growth Hub, which has supported over 12,000 businesses since it started in 2013.
Boost provides a range of fully-funded support programmes and advice to small, medium and large businesses, including leadership mentoring, peer networks, business planning, sales and startup support.
The leader is urging all businesses, no matter what challenge they are facing, to talk to the Boost team.
She said: "It's a brilliant service that has had a positive impact on thousands of businesses but there are many thousands more that we want to help too.
"Some businesses are facing difficult conditions and there are many that are growing and creating jobs. The support available through Boost and the business support eco-system is vast and no matter what stage of the journey a business is at, we have someone who can help. I am urging businesses to talk to Boost to get the support they need."
Lancashire County Council also leads a specialist service called Two Zero, for high growth scaleup businesses, and has Rosebud Finance and Access to Finance among its business support portfolio.
County Councillor Aidy Riggott, cabinet member for economic development and growth, Lancashire County Council said: "There are many challenges facing people who run businesses but they don't need to do it alone.
"There is such an array of funded support available in Lancashire through Lancashire County Council as well as through our world-class private sector business support community. It's incumbent on us to remind people in business that we are here to help businesses and to support economic growth, one of our key priorities.
"Lancashire does its best work when it works together and we urge businesses to speak to our Growth Hub to find out what support is available."
Boost is Lancashire's Business Growth Hub and is led by Lancashire County Council and the Lancashire LEP (Local Enterprise Partnership). It is supported by funding from Lancashire County Council, the European Regional Development Fund (ERDF) and the Department of Business, Energy and Industrial Strategy.
Since 2013, Boost has supported over 12,000 businesses and helped create over 3,000 jobs. This support has helped add £100million to the Lancashire economy.
Mary Speakman owns Code Galaxy, a Blackpool-based website and software development agency, which has used Boost to shape its business strategy. Mary said: "Having the support of Boost has been invaluable in helping us develop our business, grow turnover and profit. We have an ongoing relationship which allows us to work on the business and find new solutions. I would recommend Boost to any business."
Another business which has previously received Boost support is Rosetta Brands, based near Garstang, which provides services to retailers on Amazon. The company is now operating in several international markets and recently received private equity investment from London based Rockpool Investments.
Nick said: "We have used Boost's support programme several times on our journey to this point, and have found it invaluable to validate our ideas, and steer us onto a winning path. I thoroughly recommend the array of Boost programmes available to businesses wanting to achieve high growth in their sector."
Lancashire business owners and managers can get in touch with Boost by calling 0800 488 0057 or visiting www.boostbusinesslancashire.co.uk
*This news release was originally published by Freshfield PR on behalf of Boost, Lancashire's Business Growth Hub
Notes to editors
For further information, contact:
Joel Durkin, Jacqueline Ballard, Simon Turner, Freshfield
joel@freshfield.com / jacqueline@freshfield.com / simon@freshfield.com
About Boost:
Boost is Lancashire's Business Growth Hub and is led by Lancashire County Council and the Lancashire LEP (Local Enterprise Partnership). It is supported by funding from Lancashire County Council, the European Regional Development Fund (ERDF) and the Department of Business, Energy and Industrial Strategy.
The role of Boost is to help growth-hungry Lancashire businesses realise their potential by providing simple access to a range of leading-edge funded programmes, delivered by specialists with a track record of growing established and innovative start-up businesses. Boost also helps businesses access specialist private sector business support, as well as other nationally funded programmes, where relevant.
Since its inception in July 2013, Boost has provided growth advice and support to over 12,000 businesses across Lancashire, with many benefiting from tailored programmes of consultancy, grants or mentoring to support their growth. Boost has so far helped to create over 3,000 jobs and generated new economic activity valued in excess of £100m.
In December 2021, Boost secured £3.2m of new funding to run for a further 18 months from January 2022.
Boost has received £1.9m of funding from the England European Regional Development Fund (ERDF) as part of the European Structural and Investment Funds Growth Programme 2014-2020. The Department for Levelling Up, Housing and Communities is the Managing Authority for ERDF. Established by the European Union, ERDF funds help local areas stimulate their economic development by investing in projects which will support innovation, businesses, create jobs and local community regenerations. For more information visit https://www.gov.uk/european-growth-funding.
Growth Hubs and the Growth Hub Network - The 38 Local Enterprise Partnership led Growth Hubs across England bring together and simplify access to national and local business support. Supported by Government, Growth Hubs ensure that no matter the size, sector or maturity of a business they provide locally tailored business support and advice to direct businesses to the most appropriate organisations to assist with their specific requests.