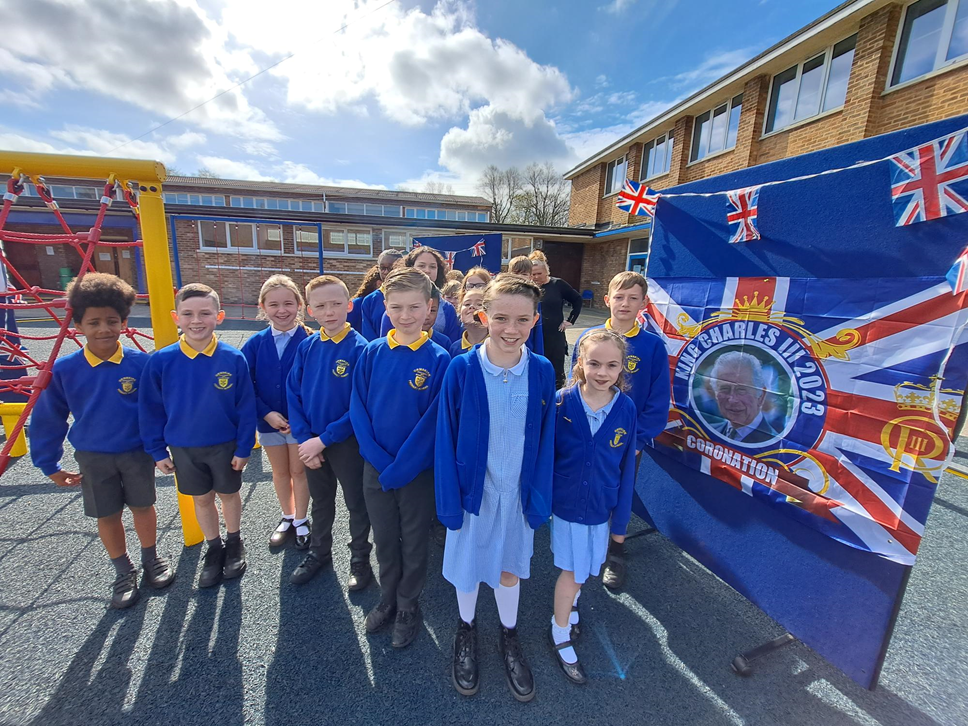 Lancashire gets ready to celebrate the Coronation
The countdown to the Coronation of His Majesty the King and Her Majesty the Queen Consort is now well and truly on – and in Lancashire, we're marking this international celebration in style.
King Charles III, formerly known as The Prince of Wales, began his reign as our monarch and Duke of Lancaster, opening a new Carolean age following the death of Queen Elizabeth II on 8 September 2022.
He will be crowned in an historic ceremony at Westminster Abby on Saturday 6 May.
We'll be flying coronation flags atop County Hall and the mast outside Christchurch Precinct between Friday 5 and Tuesday 9 May, with the building being floodlit in the evenings over the bank holiday weekend.
Our Older People's Care Services team have organised a range of activities in our care homes and day centres, from a street party at Cravenside Home for Older People in Barnoldswick, to afternoon tea at Milbanke Day Service.
Fosterfields Day Centre in Chorley has a day full of celebration planned on 6 May and has also invited residents from the Leyland Centre to join them for an indoor street party.
Laura Orrell, day time support manager at Fosterfields Day Centre, said: "The TV will be on so they can watch it live on telly.
"We're serving buffet food, finger food, waving the flags. We're holding a coronation bingo, there'll be some nice prizes and also a quiz about the Royal family on the day."
Meanwhile, our primary schools will be transformed into a sea of colour as children tuck into fabulous coronation-themed lunches on Thursday 4 May courtesy of our School Catering Service.
Later this month on 19 May, pupils and teachers across the county will be invited to take part in Lancashire Walks to School Day to promote the benefits of walking over getting dropped off in the car. The new event is also intended as a tribute to the King, who is a keen environmentalist.
Ormskirk Church of England Primary School is planning to mark the Coronation His Majesty the King with a series of eco projects.
Headteacher Giles Storch said: "We're going to focus outside the classroom, more on biodiversity and the environment, trying to tie in with the King's greatest passions.
"Every class is being given a large planting area," he added.
"Each planter for each class we're going to plant red, white and blue flowers, which should make the school look particularly vibrant just after the Coronation."
Activities at our Children and Family wellbeing services will run from 1 May up until the Coronation weekend, including pre-school children's dress up and story time sessions at the West Lancs service.
Our Libraries and museums are hosting activities from Wild Crown Making at Leyland Library to coronation-themed plant pot painting at Queen Street Mill Museum in Burnley.
Scavenger hunts to find the King's Crowns are taking place this week at Tarleton Library.
To find out what events are taking on near you, visit our What's on page
Our Chairman, County Councillor Peter Britcliffe, will host a reception to celebrate the Coronation and work of environmental volunteers on 10 May.
Cllr Britcliffe said: "Lancashire is proud to join the rest of the UK in celebrating the Coronation of His Majesty the King and Her Majesty the Queen Consort.
"Across the county, people young and old are preparing to come together to celebrate this historic moment, which comes around once in a lifetime for all but a few.
"To mark this special point in time, we'll be flying coronation flags atop County Hall and lighting up the building in red, white and blue."
To find out more about how we're marking the Coronation, visit our Coronation webpage.
Notes to editors
Notes to editors
Lancashire County Council services are running as usual over the bank holiday weekend. This includes our recycling centres.
For more information www.lancashire.gov.uk