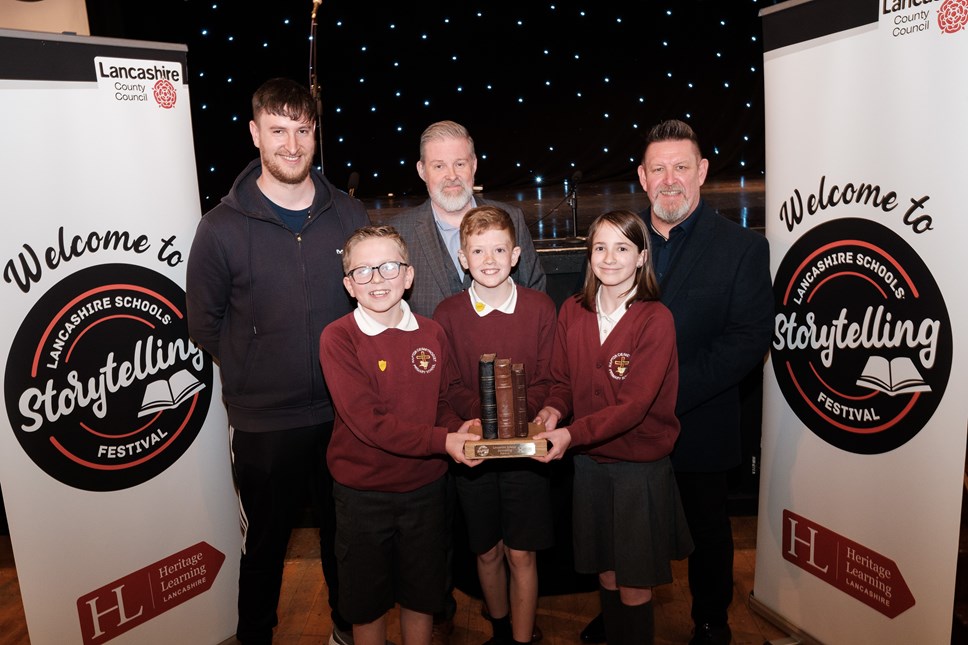 Lancashire Schools' Storytelling Festival crowns its first champions
A class of creative young storytellers have been crowned champions at the first Lancashire Schools' Storytelling Festival.
This year's inaugural competition centred around the fictitious adventures of a Lancashire Knight in shining armour with stories written and performed by the children themselves. The stories include magical swords, mythical beasts, dragons, serpents, Selkies and monsters and of course our hero.
Launched by Heritage Learning Lancashire, part of Lancashire County Council, the festival supports heritage, literacy and creativity. It encourages collaboration and enhances communication and oracy skills while building confidence and a sense of wellbeing through participation.
Heritage Learning Lancashire also delivered storytelling workshops to teachers and pupils, encouraging children to not only create but write and perform their own stories.
Children from Sabden Primary School, Balderstone St Leonard's C of E Primary School and Hapton C of E/Methodist Primary School went head-to-head for the title of Storytelling Champions at the Festival Finale.
The Festival Finale took place at Oswaldtwistle Civic Arts Centre and Theatre, where a panel of judges crowned the winners, noting that the standard of stories was incredibly high.
It was a close contest, but after some tough deliberations the judges named Class 4 from Hapton Primary 2022 Storytelling Champions.
Class 4 won over the judges with their tale of Sir Elias Gigas and The Serpent, which included monsters, magical swords and a slithering, sinister serpent.
The Festival Finale also included a celebration of Lancashire Folklore, featuring a collection of folktales involving wizards, fairy feasts, family curses, ghostly pigs and a love story with a tragic ending.
Children were joined on stage by world renowned musicians Emily Portman, Mikey Kenny and Sean Cooney, while international storyteller Doctor Patrick Ryan enchanted all with his tales.
Project lead John Meredith said: "Our young storytellers have done their schools and themselves proud and have been truly marvellous to work with. It has been a great adventure for all involved.
"The aim of the festival is to reflect Lancashire's rich and diverse cultural heritage. While this year's theme was Lancashire Folklore future plans will see the incorporation of folklore from around the United Kingdom and across the world.
"This competition is open to all Lancashire County Council schools and next year, as well as the spoken word, we will also have a musical element in the festival.
"Our aim is to see the Lancashire Schools' Storytelling Festival become an important part of the school curriculum and grow into a fortnight of storytelling activities across the county each year.
"Planning for next year's festival will soon get underway – who knows where our storytelling journey will take us next."