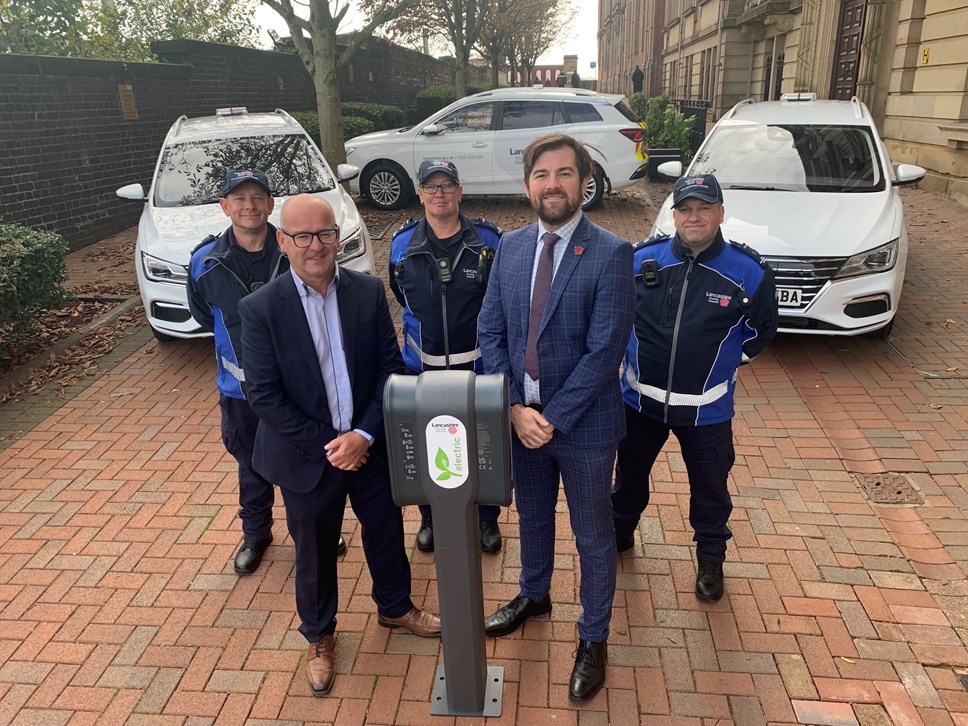 Lancashire's parking team goes electric
Lancashire County Council's parking services team is spearheading the move to a cleaner, greener, future after taking delivery of 12 new electric vehicles.
The fully electric cars will help to minimise emissions as the council's parking enforcement officers cover hundreds of miles every week on their rounds.
County Councillor Shaun Turner, cabinet member for environment and climate change, said: "We're committed to reducing the carbon emissions produced by the council's services to net zero, and adopting new technology such as electric and low emissions vehicles will play a major part in this.
"Our parking services team is the first to go fully electric, and we'll be looking for opportunities to use electric vehicles wherever there's a good business case as other parts of our vehicle fleet need to be renewed.
"We've installed the first charging points County Hall and are currently installing others at our depots to support these vehicles. I look forward to building on this in future as the transition to EVs continues."
The county council's fleet services team is looking at where electric vehicles could be used in the huge range of services it delivers, particularly as more options come on the market which can go further between charges.
As another service which clocks up a lot of miles, the council's highways teams are expected to be among those to adopt more electric vehicles in the near future.
County Councillor Turner added: "As the work of our highways teams naturally involves a lot of travel we are looking closely at how they can best make use of electric vehicles to reduce the impact of their work on the environment.
"Some of the vehicles and plant equipment used by our highways teams are very specialised so converting to electric will depend upon electric powered technology advancing to cover these types of vehicle, however we are working to identify where they can be used.
"Our grounds maintenance teams are already using battery powered hedge cutters, strimmers, chainsaws, pruners and mowers which have all traditionally been petrol-powered."
Notes to editors
Pictures show (L-R) County Councillor Shaun Turner, cabinet member for environment and climate change, County Councillor Charlie Edwards, cabinet member for highways and transport, with parking enforcement officers who are using the new electric vehicles.