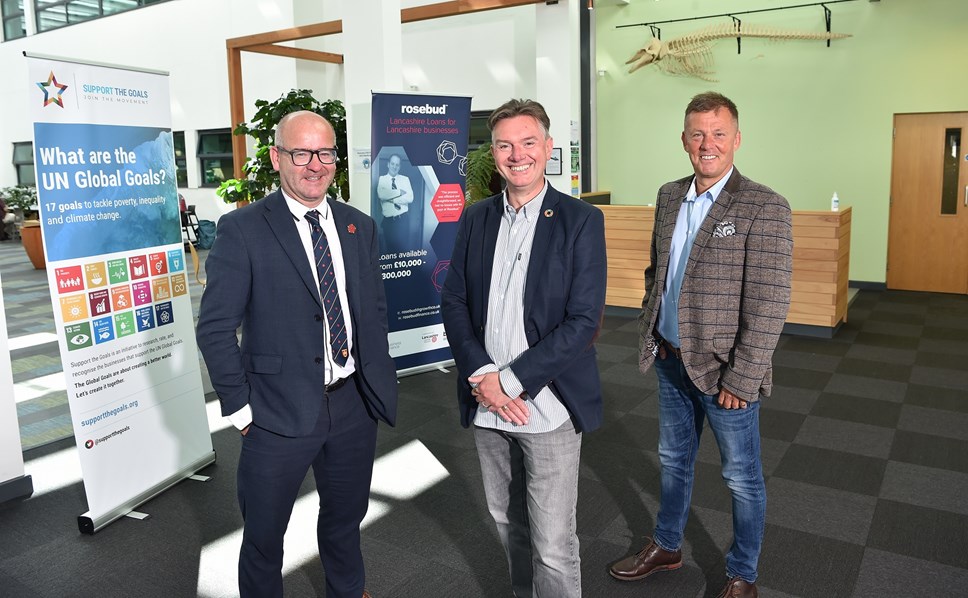 Lancaster organisation builds world's largest database of businesses supporting UN Sustainable Development Goals
An innovative Lancaster social enterprise is helping companies across the globe to improve their sustainability after investing in technology and research with the support of a Rosebud loan.
Rosebud is owned by Lancashire County Developments Ltd (LCDL), a wholly owned subsidiary of Lancashire County Council. It aims to support the growth of Lancashire businesses and the local economy, offering loans between £10,000 and £300,000 as well as high-quality business support.
Support The Goals was established in 2018 by Colin Curtis and is based at Lancaster University. Through research, the organisation provides a rating to companies around the world based on their sustainability, which is judged against the globally recognised UN Sustainable Development Goals.
The initiative rates large publicly listed companies in the UK and Australia, such as Sainsburys, Auto Trader, and Australia and New Zealand Bank. It also provides free education to businesses, including SMEs, on how to build a sustainability strategy based on the UN goals.
In 2020, the organisation received a £30,000 loan from Rosebud, following an introduction by Lancashire's Access to Finance service, which was used to invest in its rating platform as well as promoting the initiative.
Since receiving the loan, Support The Goals has worked with more than 100 students at Lancaster University and is now helping businesses to understand how their suppliers are supporting these important sustainability goals, as well as providing them with free education. The platform is now understood to be the world's largest database of business support for the UN goals.
Support The Goals currently has two full-time employees as well as a number of part time roles and funded placements. Colin is also looking to increase the number of full-time staff as the organisation continues to grow.
He said: "We currently have several hundred member firms as well as several thousand in our database. We have also had recognition from the UN for our work. The organisation isn't about profits, it is about helping companies to become more sustainable by simplifying sustainability.
"Our plan is to continue to develop the platform, research supply chains and see exponential growth. We want to help students who we work with get opportunities and increase the number of sustainable roles we are providing," he added.
County Councillor Shaun Turner, cabinet member for environment and climate change, Lancashire County Council, said: "It is brilliant to see companies like Support The Goals using the fantastic knowledge base our Lancashire universities can offer to bring a positive difference to the world.
"Rosebud's funding will help Support The Goals to grow, while also advancing the reputation of Lancashire as a leader in business research and improvement."
Jonathan Nelson, senior loan manager, Rosebud, said: "As sustainability continues to become more important to organisations across the planet, demand for Support The Goals's help will only grow.
"It is a unique organisation and I'm pleased Rosebud has been able to contribute to this growth. I look forward to seeing companies around the world increase their positive contribution to society with the help of Support The Goals."
Rosebud is delivered by GC Business Finance. Businesses in Lancashire's 12 local authority areas are eligible for the funding: Burnley; Chorley; Fylde; Hyndburn; Lancaster; Pendle; Preston; Ribble Valley; Rossendale; South Ribble; West Lancashire; Wyre.
Notes to editors
*This news release was provided by Freshfield on behalf of Rosebud
For all media enquiries, please contact:
Joel Durkin or Simon Turner, Freshfield
01772 888400 / joel@freshfield.com / jacqueline@freshfield.com / simon@freshfield.com
About Rosebud
Loans provided between £10,000 and £300,000 for ambitious growing businesses seeking to expand their workforce
Interest rates typically will be between 6-10% with an admin fee of 2.5% (talk to us about flexible options for payment)
Loans are typically taken out for three to five years and there's no penalty for early repayment
You'll need to disclose if you've got a bad credit history, but it won't necessarily stop you from getting funding
Accessing Rosebud's quick online application makes it easy to send to see how Rosebud could help you and your business.

Website: www.rosebudfinance.co.uk
Email: rosebud@growthco.uk