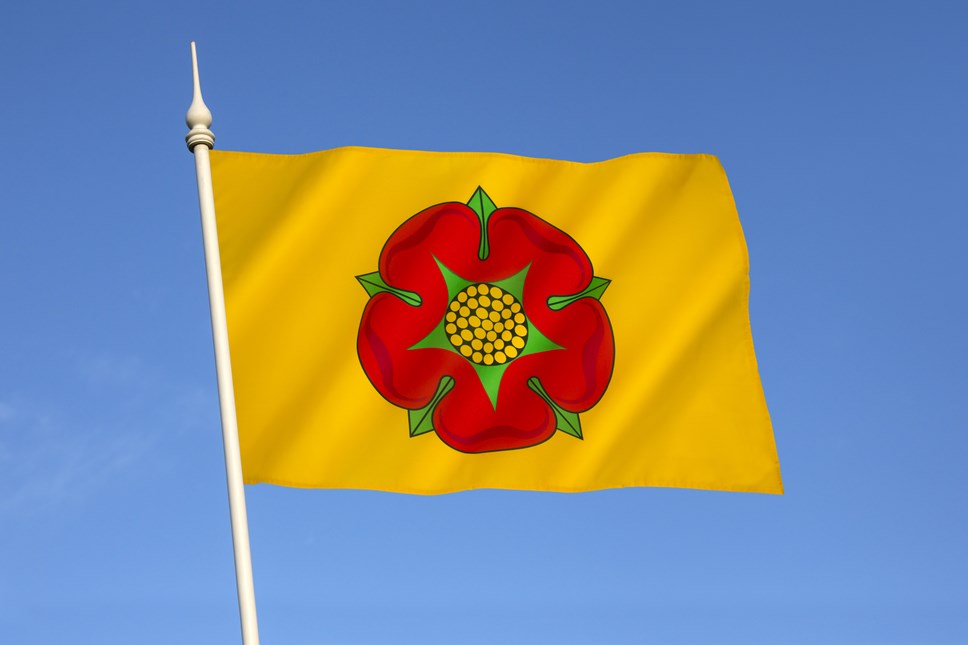 Leaders unite to back bold multi-million pound plans to level up Lancashire
Lancashire's 15 council leaders have come together in a show of unity to support all of the bold bids submitted to the government's Levelling Up Fund.
In total, 11 bids have been made for exciting and transformative projects across the county with a combined value of nearly half a billion pounds.
In a joint letter to government, the leaders said that the proposals don't just benefit the individual council that has submitted it, but have the power to radically redefine all of Lancashire's prospects for the future. It is the latest stage in a level of political cooperation in the county that has never been seen before and comes ahead of the leaders unveiling a long term plan for the county.
County Councillor Phillippa Williamson, Leader of Lancashire County Council, said: "We're making the case to government that by taking a combined approach to these bids we can maximise their impact.
"Each of the bids has the power to transform local areas, but collectively they have the power to create a network of jobs, improvements and opportunities that will benefit everyone in Lancashire.
"In fact, as well as Lancashire County Council's own £50m bid to develop public transport, walking and cycling projects in East Lancashire, I am so passionate about how we can all work together the county council have also offered in-principle funding support to six of the district council bids to increase their chances of being successful.
"All of Lancashire's leaders believe we can, should and must work together to ensure Lancashire, and everyone in it, can reach their full potential.
"We want everyone in the county to be able to access opportunities that will harness their individual talents so that everyone in Lancashire can live their best life."
Blackpool Council Leader, Councillor Lynn Williams, said: "Blackpool are hoping to be able to build on the £39.5m 'Town Deal' funding we were awarded in March and will be submitting a 2nd round Levelling Up Fund bid.
"Lancashire is a big and closely connected county so the opportunity to make a difference here collectively across a large foot print is significant.
"The opportunities that can be gained from a bid for Blackpool will not only benefit the people of Blackpool and the Fylde Coast, but will be felt across the whole of the county.
"These bids will be a key driver for economic growth, job creation and training for all those that live and work in Lancashire."
Blackburn with Darwen Council Leader, Councillor Phil Riley, said: "I'm proud to be fronting our compelling Levelling Up Fund bids in Blackburn with Darwen and contributing to an exciting round of proposals across Lancashire.
"Our bids have the potential to bring impressive change, unlocking significant opportunities that could be truly transformational - not only for our borough - but the whole of Lancashire."
Speaking on behalf of Lancashire's 12 district council leaders, Cllr Alistair Bradley said: "It's more important than ever that us as local authorities work together to get what's best for our residents.
"If the country is true about levelling up then we think it's really important that the Government listens to what those in Lancashire are telling them.
"If all the schemes can be delivered it will help transform Lancashire's fortunes and give a better return rather than having a piecemeal approach to government funding across the county."
The government's Levelling Up Fund is a £4.8bn fund aimed at infrastructure projects that have a visible impact on people and communities.
Lancashire's 11 bids are focused on three areas themes of transport, regeneration and culture. The leaders have urged government to award them all, so they will make a visible and positive difference to our local areas in need of levelling up.
This is the second round of funding, after the first round saw £1.7bn awarded to 105 successful projects, including some in Lancashire.
* Issued on behalf of all Lancashire's leaders
Notes to editors
Notes to Editors:
Lancashire County Council has bid to secure up to £50m to develop a range of complementary public transport, walking and cycling projects that would significantly improve travel opportunities for people across East Lancashire, making them safer and greener. Find out more at Lancashire's Levelling Up Fund Bid - Lancashire County Council
Blackburn with Darwen Council has prepared two Levelling Up submissions to Government. One will support its town centre masterplan – with phase one focused on establishing a new Business Innovation District with a £60m development. The second submission is looking to secure Government funding to deliver a £30m package of new transport infrastructure improvements at J5 of the M65, integrated with new walking and cycling routes to support growth opportunities in south Blackburn.
Blackpool Council's bid covers the following projects:
Multiversity - £65m scheme for a new world class university experience within the town centre.
Post Office - £26m scheme for the refurbishment of the old Abingdon Street post office into a new 4-star hotel.
Town Centre Access - £17.1m scheme to transform Blackpool town centre's transport network providing better traffic circulation with improved pedestrian areas.
The bid is focused on supporting economic growth, creating jobs for local people, improving skills and opportunities, creating more sustainable travel options for people and reducing congestion.
Chorley Borough Council – A scheme totalling £45m that would transform three town centre sites creating a civic square, community health hub and town centre living.
Fylde Borough Council - Fylde has submitted a £13.14m LUF bid: From the Station to the Sea – Revitalising St Anne's Town Centre and Promenade Gardens.
The LUF project will kick start the delivery of the St Anne's on the Sea Masterplan by transforming public realm and connectivity from the station gateway to the Promenade, integrating the town centre and seafront and providing a linked, high quality experience for residents and visitors alike."
Lancaster City Council's bid is for £50m of public investment in Eden Project North in Morecambe, The Eden bid aims to be one of the two £50m awards being given out in the second round of the Levelling Up Fund for projects with a culture and heritage investment theme.
Hyndburn Borough Council's £23m bid focuses on the redevelopment of Accrington Market Hall, Burtons Chambers and Market Chambers all of which face onto the new town square:
The grade 2 listed Market Hall will be refurbished and transformed in part into a higher-end eating, drinking and social venue with more modern facilities for small independent traders.
The important Art Deco heritage building Burtons Chambers would be brought back into full use by repurposing into co-working space to support Hyndburn's entrepreneurs, independent traders and start-up businesses.
Market Chambers would be transformed into a venue promoting Arts, Culture and Heritage with potential of some higher quality commercial space to support local independent traders / organisations within these sectors.
Preston City Council's bid focus's on two themes that, when delivered in a joined-up way, will bring many benefits. The themes for the bid are:
Transport - investment in new and enhanced works to improve the active travel infrastructure in our city including:
Segregated cycling and major public realm works at Friargate South and segregated routes along Queen Street/Avenham Lane
Building a new cycle / footbridge to replace the Old Tram Bridge
Building a new mobility hub to provide a secure cycling facility at Preston bus station
Cultural - Investment in our four major city parks: Waverley Park, Moor Park, Ashton Park and Grange Park. The proposals involve the delivery of new, higher quality and more accessible sports /community facilities and pitches, pavilions, public realm and heritage safety and infrastructure improvements.
Rossendale Borough Council is seeking £17m from the Levelling Up Fund. Improvements are focused on streamlining the gyratory system in Rawtenstall, reconfiguring Rawtenstall market, redeveloping the site of the existing Bacup Market and creating a new centre for skills provision in Rawtenstall working with Nelson & Colne College.
The bid is focused on supporting economic growth in the borough by improving our town centres, creating better skilled and better paid jobs for local people by improving skills and training opportunities, and improving the road infrastructure to ease the flow of traffic into and out of the borough.
South Ribble Borough Council's bid – Proposals across two sites to create new-look public spaces in Penwortham and a major new sporting complex at Vernon Carus.
West Lancashire District Council's bid seeks to build a new, visually impactful, energy efficient and centrally located Leisure & Wellbeing Hub for the people of Skelmersdale and West Lancashire.
It will look to drive behaviour change and community resilience by offering affordable, accessible, modern and needs-led leisure facilities, multi-agency drop-in services and multi-purpose community space. It will be designed to establish the physical, economic, social and environmental conditions that promote economic regeneration and address economic and health inequalities across the town.