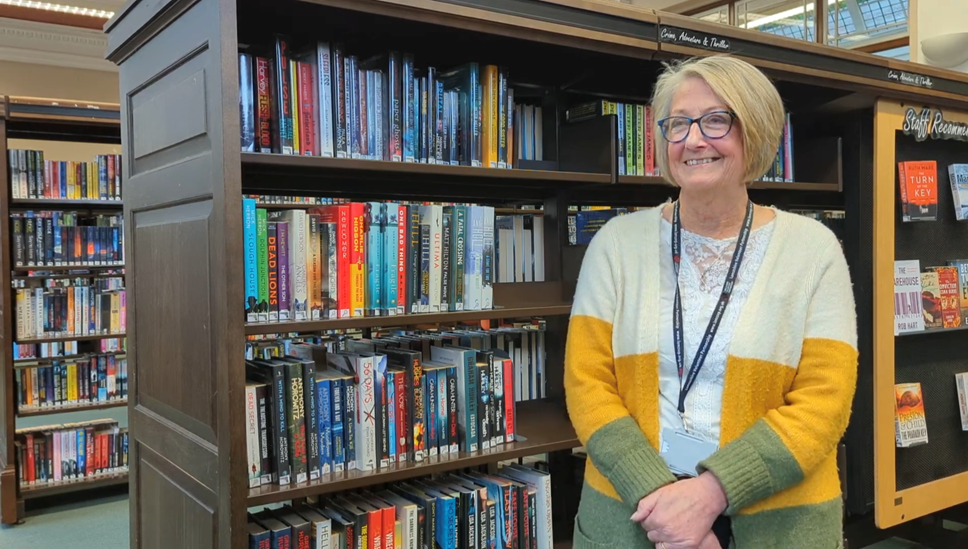 Meet the Lancashire volunteers bringing the library to your door
Lancashire's Home Library Service is looking for volunteers to help deliver books, free of charge, to residents across the county this winter.
You can use the Home Library Service if you can't get to a library because of your age, disability, poor physical or mental health, caring responsibilities or mobility problems.
Typically, the service sees a surge in users over the winter as the cold weather sets in.
If a volunteer delivers books to you, they will visit you every four weeks on an agreed day. You can ask the volunteer for specific titles or authors, and they will pass this information onto library staff.
Christine West started volunteering for the Home Library Service eight years ago following the death of her mother, partially as a way of grieving and to also give something back to the community.
"In some cases, you're the only person they have seen in that particular week," Christine, who works out of Burnley Central Library, said.
"It's just really nice to get to know these customers, just to talk to them, to learn something about their life. And you feel at the end of the day that maybe you've done something worthwhile.
"They're all just so grateful to have the service. The times people have said to me, I don't know what I'd do without the Home Library Service, and it's lovely to have somebody to talk to.
"I know it's a cliché to say it gives you a good feeling, but it does give you a good feeling."
As well as books, you can borrow music CDs, DVDs and audiobooks, which are particularly popular with customers who are partially sighted.
A friend, relative or carer can collect the items for you. If you can't arrange for someone to collect them for you, volunteers can deliver your books to you free of charge.
Ray Toddington, 74, has been volunteering for around 8 years, and says the commitment is "perfectly manageable".
Ray, who works out of Burnley Central Library, said: "It doesn't take up a lot of time each week, I typically do a couple of hours every 4 weeks. I share a route with someone else. It's a perfectly manageable commitment.
"And the people we go to are usually so interesting, they're so pleased to see you because most of them live by themselves. They're always glad of a friendly ear.
"We do need more volunteers but equally we need more people to deliver library books to."
County Councillor Peter Buckley, cabinet member for community and cultural services, said: "Our volunteers do an incredible job in Lancashire and play a crucial role in supporting some of our most vulnerable residents.
"The Home Library Service is a lifeline for so many of our residents in more ways than one.
"I want to thank all of our volunteers for your efforts and encourage anyone who can spare a few hours to look into volunteering for our Home Library Service this winter."
Lancashire Volunteer Partnership offer a variety of volunteering opportunities across Cultural Services (libraries, museums and archives) in Lancashire. If you would like to get involved please visit lancsvp.org.uk/opportunities, or call their team on 01772 416 417 for more information.
If you are interested in using the Home Library Service call 0300 123 6703 or email library@lancashire.gov.uk