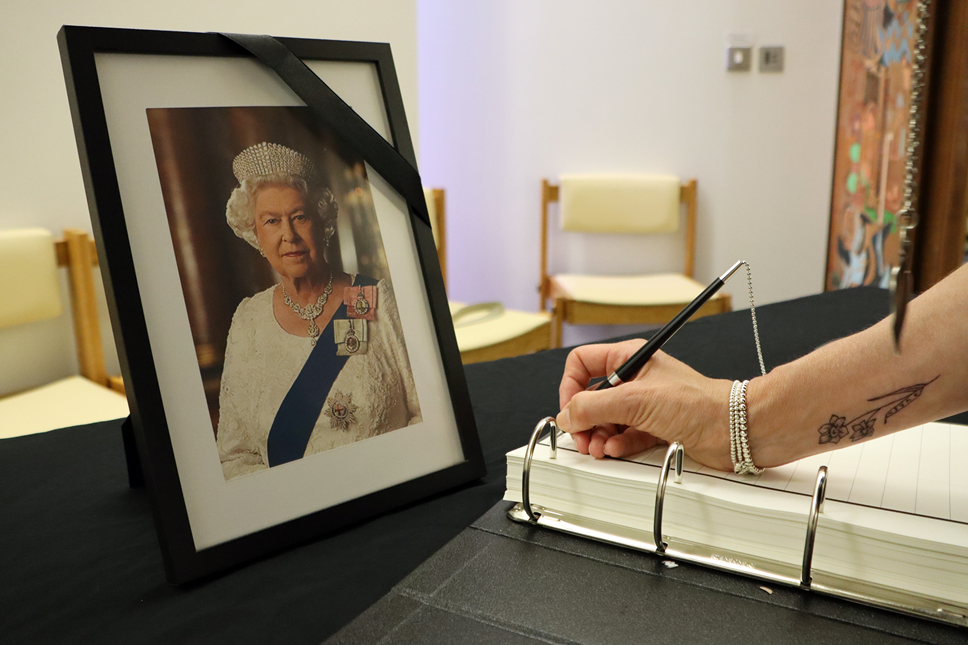 More than 2,700 messages of condolence for HM Queen Elizabeth II
Thousands of people have paid their respects to Her Majesty Queen Elizabeth II in Lancashire County Council's books of condolence.
The county council opened an online book of condolence on its website following the announcement of Her Majesty's death on Thursday 8 September.
More than 2,700 messages have been written in the online book so far.
There is also a traditional physical book of condolence at Christ Church Chapel, Preston by County Hall at the corner of Fishergate and Bow Lane.
The traditional book of condolence is available between 9am and 5pm each day. These books will stay open until 5pm on Tuesday 20 September.
County Councillor Peter Britcliffe, Chairman of Lancashire County Council, said: "We are all deeply saddened by the loss of Her Majesty Queen Elizabeth II.
"She had very close links with our county and the sheer number of messages we are seeing just shows the love and respect people feel for her.
"Our books of condolence will stay open until after the funeral, so there are still opportunities to pay your respects."
In addition to the books of condolence, the county council lit up County Hall purple on the evening of Friday 9 September. It has lowered the flags at County Hall to half-mast and published a number of special videos and posts on its social media channels.
County Councillor Phillippa Williamson, leader of Lancashire County Council, said: "As our Queen and our Duke of Lancaster, Her Majesty Queen Elizabeth II is missed by so many people, particularly those who met her on one of her many visits to Lancashire over the years.
"It's so touching to see thousands of people have written messages in our books of condolence to pay their respects to our longest serving monarch, who was a tremendous example to us all.
"There is still the opportunity to pay your respects online or by visiting the Christ Church Chapel next to County Hall to sign our traditional book of condolence, or lay flowers."
For more information, visit www.lancashire.gov.uk/queen.
Once the books close, they will be held in our archives as a permanent record of the affection and respect the people of Lancashire had for Her Majesty Queen Elizabeth II.