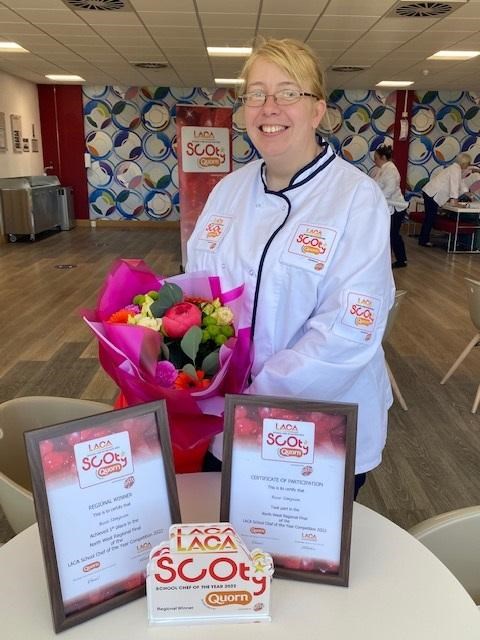 Morecambe school chef up for national award
A school cook from Lancashire has got through to the national final of the School Chef of the Year competition.
Rose Simpson, 42, who disliked school dinners herself, has been cooking up healthy and tasty meals at Morecambe Bay Community Primary School for 11 years. Rose started her working life as a 'Saturday girl' in a café. She had not considered working in a school kitchen until she met a supervisor who inspired her.
"My signature dish, and it's certainly one the children enjoy, is a vegan hash wrap, said Rose. "Teriyaki also seems to go down well. To be honest, the children seem to like most of the meals we cook for them.
"If there is a secret to our success, it's that we talk to the children about food – especially when we're introducing a new dish. We also run taster sessions so that the children can give unusual foods a try.
"My colleagues and I are quite lucky in this school because the children are quite educated where food is concerned; they realise that a healthy meal can also be really tasty.
"Even the school tuckshop only sells fruit, and the children are fully behind that."
Rose will join 11 other school chefs from across the UK at the national finals, which will take place on July 6 and 7 at the Hilton Birmingham Metropole.
The competition is being organised by the Local Authority Catering Association. During the finals, Rose and the other school chefs will have one hour and 45 minutes to prepare and serve a grab & go savoury snack, along with a delicious and imaginative main meal and dessert.
Each contestant must use at least one Quorn product in both the new grab & go item and main course and one Bisto product from a list provided in either the snack or the main course.
At least half of the dessert must be fruit-based that should reflect school standards, using one Premier Foods product from a list provided.
The winner will receive a £1,000 cash prize, the 2022 LACA School Chef of the Year trophy and an invitation to a calendar of catering industry events.
The second and third place winners will receive £500 and £300 respectively.
Rose added: "It's very important that children eat well and healthily during the day. If they're hungry, they won't be able to concentrate on their lessons.
"I'm very much looking forward to travelling to Birmingham to take part in the finals. I know how hard my four colleagues and I have to work to produce meals the children will enjoy, so I have no doubt the standard of the competition will be very high."
A Year 5 pupil explained why she enjoys the meals so much: "My favourite school meal is Cheese Swirl because it is cheesy and creamy. I love Apple Crumble dessert because it's very sweet and sour."
Rose has also inspired a pupil to want to learn to cook: "I love how tasty the pasta is and I want to know the secret recipe so I can enjoy it even more."
Sue Taylor, the Headteacher at Morecambe Bay Community Primary School understands how challenging it can be for Rose and her team to produce healthy and enjoyable meals for the children: "On a daily basis, delicious aromas waft from the kitchen. I am always impressed that the team create such healthy and tasty food".
County Councillor Jayne Rear, Lancashire County Council's cabinet member for Education and Skills, added: "I'm both impressed and proud of Rose and her team for making it through to the national finals. Providing many children with healthy and nutritious school meals that they enjoy isn't easy.
"I have no doubt that Rose will give a good account of herself at the competition and my colleagues and I wish her all the very best of luck."
Notes to editors
Rose is available for interview and photographs on request. Please email the media team at media@lancashire.gov.uk to make the arrangements.
The competition is in its 28th year. It is the education catering sector's 'premier' culinary skills competition.
More than half of the £11.5 million Lancashire County Council spends each year to provide nutritious meals for schools and care homes is used to procure food from Lancashire, new figures have revealed.
The county council procures around £13 million of food and food supplies annually, with Schools & Residential Care Catering (SRCC) being the largest purchaser at £11.5m of this value. As the key stakeholder, SRCC operates to a sustainable food procurement strategy that considers the economic, environmental, social and health aims connected to food.
Currently, 100% of the county council's tendered food contracts are considered local – defined as being within a 35-mile radius of Preston – of which 75% are classified as SMEs. In addition, more than 50% of SRCC annual spend on food is grown, reared, produced, or sourced from Lancashire, contributing between £24-28m to the local economy every year.