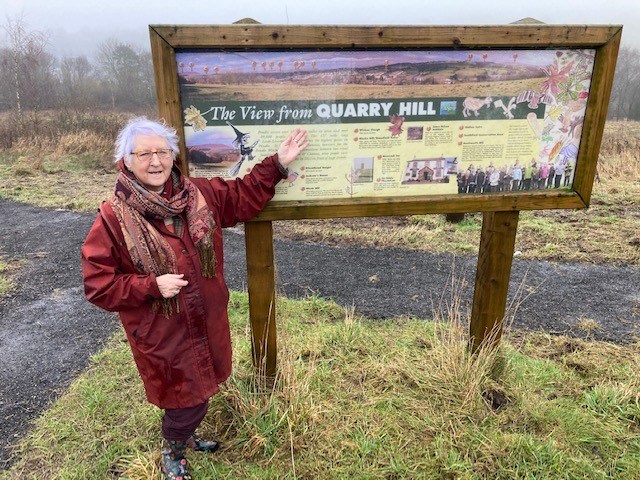 Nature reserve at former quarry is transformed
A nature reserve at the site of a former quarry has been transformed.
Quarry Hill, a former landfill site in Nelson, is one of a number of public open spaces across Lancashire created in the 1960s, 70s and 80s. Lancashire County Council teamed up with community interest company Proffitts – Investing in Communities, to make it more welcoming and attractive.
Funded by Lancashire Environmental Fund and the council, the improvement works are now complete.
Visitors should be able to see big changes when they explore the site, including more seating and wildflower planting, upgraded entrances and gateways, less overhanging vegetation blurring sight lines, and fewer dead, diseased and damaged trees.
Walkers will also benefit from newly installed handrails in places that needed to be made safer, and they will be able to navigate the site more easily due to improved path surfaces and better signage too.
Work, which began in November, also included resurfacing the car park, improving drainage in waterlogged areas, and repairing a damaged bridge. The work has also seen tree edges being cleared from pathways, removal of non-native species in the woodland and planting of more wildflowers.
Councillor Shaun Turner, cabinet member for planning and environment, said: "I'm thrilled that the work at Quarry Hill has been completed so soon. The team has done a great job making the much-needed improvements, but they have also worked hard to minimise any environmental impacts and kept the space looking as natural as possible.

"I know that visitors will be particularly pleased with the work that's been done to upgrade the steps and pathways, the improved drainage work that has helped tackled the waterlogging issues, and the bridge repairs. We hope that our regular visitors are as pleased as we are, and we hope to welcome many more new visitors to the nature reserve too."
Maureen Roberts, one of a number of local volunteers who have worked to improve and promote the nature reserve since 2003, added: "We're extremely grateful to the Lancashire Environment Fund and Lancashire County Council for funding the project to improve Quarry Hill Nature Reserve, and I know all this work will improve the visitor experience for everyone. Many local residents enjoy spending time here already – which is wonderful, but I'd also encourage anyone new who loves walking, exploring, and getting close to nature to visit as well, they won't be disappointed!"
Maureen is keen to hear from anyone interested in joining the team of volunteers.
She added: "Volunteering in a space like this brings so many benefits for both individuals and the community, so if you're interested in getting involved in anything from litter pics and planting to group walks, we'd love to hear from you."
To find out more about the project visit https://www.proffittscic.com/community-projects/quarry-hill/
If you're interested in joining an informal group of volunteers at the nature reserve, email Maureen at maureenroberts362@hotmail.co.uk