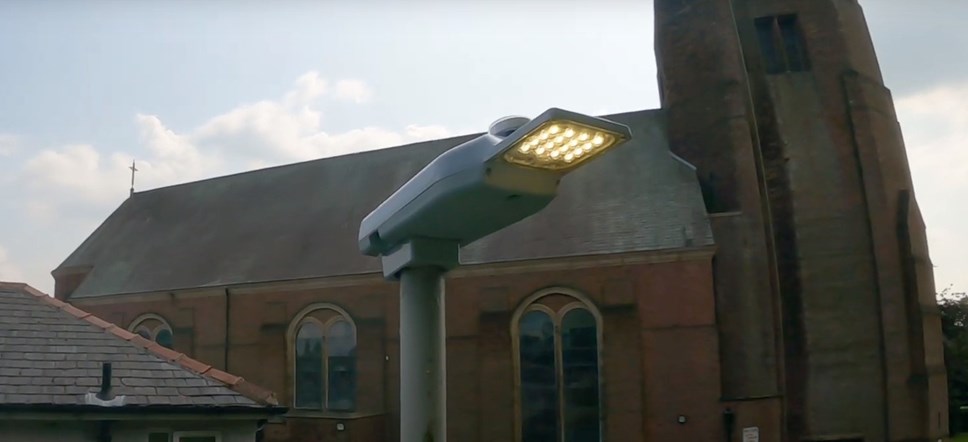 New approach makes it easier to decorate streets for local events
Lancashire County Council is making it simple and cost-effective for anyone who wants to attach items such as signs, bunting, or hanging baskets to streetlights to apply for permission.
It is vital for safety that streetlights are checked before anything is attached to them as not all streetlighting columns are the same, and their strength declines with age. It is often necessary to test older streetlights before giving permission.
The county council's cabinet has agreed a new policy to encourage anyone who wants to attach an item to a streetlight to seek permission first.
Key features include:
Parish and town councils, and other charitable organisations, will not be charged for any structural tests needed to streetlights if they apply at least 10 weeks in advance.
There will be no charge for structural tests where the application is for temporary very- lightweight items such as Remembrance Day poppies made from corrugated plastic.
The introduction of a £70 charge per application, with any consent given lasting for 3 years.
The policy has been reviewed in response to feedback from parish and town councils, and follows a new Parish and Town Council Charter agreed earlier this year which sets out how councils will work more effectively together for the benefit of local people.
A report to the council's cabinet outlines that parish and town councils already have powers allowing them to place hanging baskets on posts such as streetlights with the consent of the highway authority, and that the new policy is intended to manage these requests.
The new policy follows a review of the approach taken by 11 other highway authorities and guidance issued by the streetlighting industry.
County Councillor Charlie Edwards, cabinet member for highways and transport, said: "Most of the applications we receive to attach items to our streetlights are for local events, which we're very keen to support as we know how important they are to our communities, and we want to help as much as we can.

"Our new policy is designed to make it more straightforward and cost-effective for people to apply for permission, with the emphasis on getting your application in early.

"We're particularly keen to support parish councils and charitable organisations, and if they get their applications in 10 weeks in advance, we won't have to charge them for any tests needed to streetlighting columns as we will have time to include them within our ongoing testing programme.

"It's absolutely vital for safety that people apply for permission before attaching anything to a streetlighting column as they vary in strength depending on their age, and any failure of a column has the potential to be extremely serious, particularly if it happens during a busy event.

"People may not realise the unintended consequences of attaching something inappropriate to a streetlight – a particular sign may be lightweight but in high winds could place a significant strain on a column – and a cloth banner or bunting can become much heavier when wet.

"This is why it's so important that our highways team has the opportunity to review people's proposals, and why we're making the process as straightforward as possible to encourage compliance.

"While parish and town councils have powers to attach items such as hanging baskets to posts in the highway, they have a legal duty to check with the county council before using a streetlight for this purpose – this gives us the chance to check everything is okay before they go ahead. These procedures ensure that the organiser and the public are protected if the worst happens."
Applicants will also have to present evidence of their public liability insurance, commit to keeping highways and pavements clear, and commit to taking responsibility for the health and safety of the general public, their own staff, and any contractors.