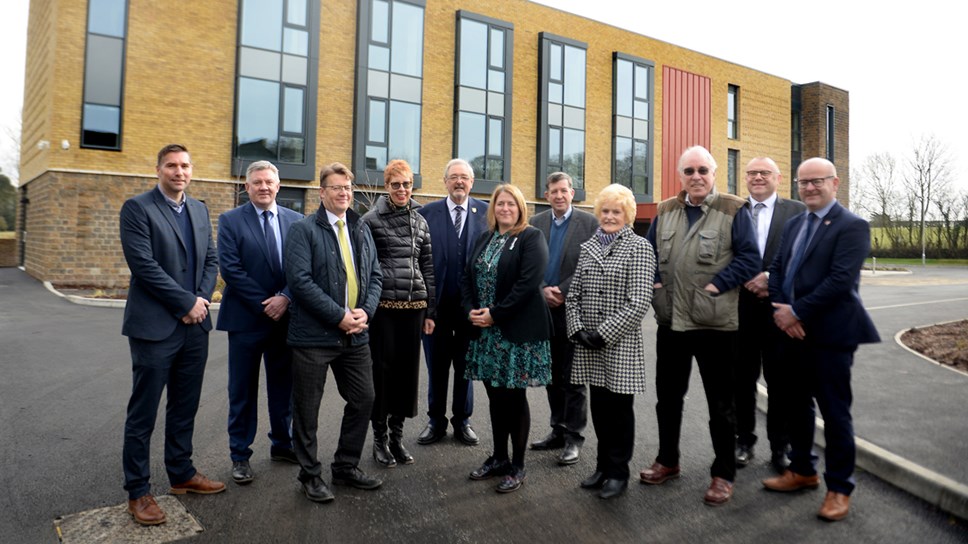 Brand new, modern care home to open in Garstang
A 'beautiful and sustainable' care home is set to open in time for spring in Garstang.
The brand new facility based at Bowgreave Rise on Garstang Road has been in the making since October 2021, replacing a much-loved, older care home.
Lancashire County Council's new £7m care home will provide much-improved, modern facilities for people needing mainstream or dementia care. Built by Eric Wright Construction and handed over to the county council on March 6 this year, the beautiful new building has 45 bedrooms spread over three storeys, comprising five living areas for people with dementia or physical frailties.
Each of the five luxurious living areas features nine bedrooms, a kitchen, lounge and dining area and quiet lounge. There are also spacious, secure gardens surrounded by fields and views out to the Forest of Bowland. An on-site hairdresser and a state-of-the-art staff training area are also featured in the new facility.
The ground-breaking new home boasts the latest green technology to help lower its carbon footprint. This includes solar panels, an energy efficient underfloor heating system, electronic vehicle charging points and high-quality double glazing to insulate it and ensure that the temperature stays consistent.
Meanwhile, recycled and upcycled materials have also been used to build the new facility, where possible. With residents aiming to move in by the end of April, the old building is set to be demolished soon after.
It's hoped the brand new, modern care home, which has a CQC rating of 'Good,' will be a blueprint for similar ones across Lancashire.
County Councillor Graham Gooch, cabinet member for adult social care, said: "This brand new, much improved care home at Bowgreave Rise will be essential as we are now taking care of a higher number of people living with dementia who need residential care.

"The former facility at Bowgreave Rise has done a good job for a long time and staff at the service have worked so hard to deliver high standards of modern care, achieving a CQC rating of 'Good' at the last inspection, which carries over to the new facility.

"However, the old building is not up to modern standards and appears a bit tired, and for this reason, we have built a new, more spacious care home so people have precisely the right care they need, and at the right setting."

Similarly, County Councillor Shaun Turner, cabinet member for environment and climate change, continued: "This is a beautiful, sustainable and environmentally-friendly care home that we have been able to future-proof in terms of carbon footprint and energy usage.

"It saves energy by being super insulated, and it's much more modern, adaptive and comfortable for residents. The temperature inside will be kept at a constant level, thanks to the environmentally-friendly technology, while we are also using solar panels and recycled material in the building structure to ensure it is as sustainable as possible.

"I'm delighted to see this fantastic new home come to fruition."

Commenting on the completion of the building work, Darren Clayton, Eric Wright Partnerships' project coordinator, added: "We were delighted to be involved in constructing this important local care home through our ongoing partnership with Lancashire County Council.

"We have worked incredibly closely with staff and residents at the care home to develop a design that fully meets their needs and could be built with the least disruption. We are very pleased to have worked closely with residents, staff, the community and the county council to create this lovely, modern care home that will meet the needs of residents in need of care and support."
If you are interested in working at Bowgreave Rise, or finding out more about careers in adult social care and the opportunities available across Lancashire, go to www.lancashire.gov.uk/jobs.