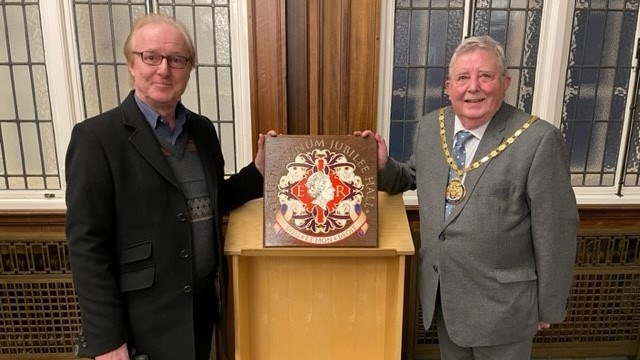 Platinum Jubilee plaque unveiled
Part of County Hall, Preston has been renamed to commemorate the Queen's Platinum Jubilee.
The Assembly Hall, which is located next to the Council Chamber, has been renamed the Platinum Jubilee Hall.
A commemorative plaque was unveiled by County Councillor Peter Britcliffe, chairman of Lancashire County Council after the Full Council meeting, which took place on Thursday 15 December 2022.
He said: "Her Majesty Queen Elizabeth II had a very special connection to our county as our Duke of Lancaster.
"It is a fitting tribute to rename the Assembly Hall the Platinum Jubilee Hall in recognition of her 75 years of service to our country as our longest serving monarch.
"This is one of the ways we marked the very special occasion. Earlier this year, events were held in schools, libraries, at our day centres and care homes. Our registration service also handed out commemorative coins to parents whose children were born over the Platinum Jubilee Bank Holiday weekend.
"Very sadly, we were in mourning only four months later following the news of her majesty's death. The Platinum Jubilee Hall is a reminder of what Her Majesty did for Lancashire during her reign."
Notes to editors
The renaming of the Assembly Hall as the Platinum Jubilee Hall follows a notice of motion, which was submitted to Full Council and agreed by councillors at the meeting on 14 July 2022.
You can find out more by visiting the following link and reading agenda item 10: Full Council - Thursday, 14th July, 2022