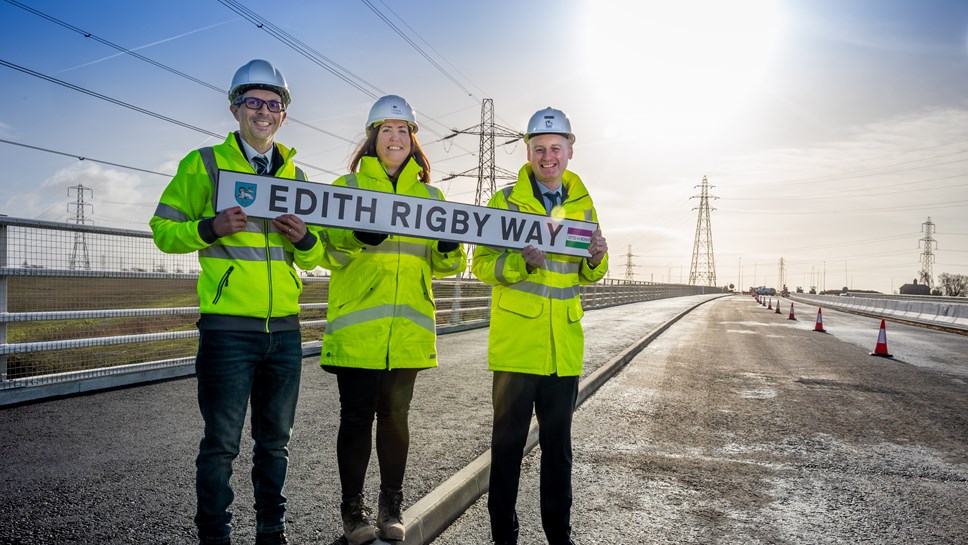 Preston Western Distributor Road to be named after Preston Heroine
The new Preston Western Distributor Road, linking parts of Preston and the Fylde to the M55 motorway, is to receive an official new name.
The road will be known as Edith Rigby Way in honour of Preston's most famous suffragette, who dedicated most of her life to fighting for women's rights, particularly those of working-class women.
Leader of Preston City Council, Councillor Matthew Brown, said: "Preston has had male names for new roads in recent years: Tom Benson Way, Sir Tom Finney Way and James Towers Way, so it is about time we paid homage to an iconic female Prestonian.
"Edith Rigby, who lived from 1872 to 1950, did so much for Preston women including allowing girls in Preston to continue their education beyond 11 years old. She was a champion for equality for both social class and gender and fought for the rights of women who worked under awful conditions.
"Among her many achievements, she helped to establish the first union for women in Preston outside the textile industry. Edith is most definitely worthy of being remembered through this new road name."
Primary schools in the immediate area will learn more about Edith in the run up to the opening, with information packs being sent that documents her work and life and the difference she made to the local community.
The £207m road scheme will link the A583 Blackpool Road and Riversway with a new junction on the M55. The aim is to reduce congestion and open up new opportunities for workers and businesses.
Part of the Preston, South Ribble and Lancashire City Deal, the road scheme is being built by Costain for the county council.
It will also improve access to the west side of Preston, where new homes are being built to accommodate the growing workforce in the city.
County Councillor Aidy Riggott, Cabinet Member for Economic Development and Growth at Lancashire County Council said: "We're in the critical final stages of construction and the road is due to open this year. Getting an official name is part of this process and we are supportive of Preston City Council's choice of name for the new road.

"I understand that residents and businesses are excited to see this huge project moving into its final stages and we'll announce more details about the opening as we get closer to it.

"Our team have been working incredibly hard on site with Costain, including during the Covid pandemic, to deliver this important new road which will open up access on the west side of the city, creating a brand-new motorway junction and supporting the delivery of 17,000 new homes and 20,000 new jobs."
Funding for the new road comes from the Department for Transport and the Lancashire Growth Deal, managed by the Lancashire Enterprise Partnership. Further funding comes from Highways England and the Preston, South Ribble and Lancashire City Deal.
Nicola Elsworth, Head of Planning and Enabling at Homes England, said:
"It's fantastic to see the progress being made on the new Preston West Distributor Road, with the naming of the road being an important milestone for the project.
"Homes England is keen to see the impact it has in unlocking further growth in the City Region."
The new roads are currently being constructed by Costain, on behalf of Lancashire County Council, as part of the Preston, South Ribble and Lancashire City Deal.
City Deal is an agreement between the Lancashire Enterprise Partnership and Preston City Council, South Ribble Borough Council and Lancashire County Council, along with central government and Homes England.
Mark Rawstron, Chair of the City Deal Executive, said: "I'm delighted that such a prominent figure in Preston's history is being honoured by renaming this impressive new road.
"Edith Rigby really paved the way for women's rights in Preston and beyond and it is only fitting that her name be immortalised in this way."
The road will help to create more than 20,000 new private sector jobs and see more than 17,000 new homes built across the area, along with new school places and open green spaces to cater for the growing population.
Additional Information
You can find out more about Edith and her life at Winckley Square Gardens website
Preston City Council actively applies and prioritises the principles of Community Wealth Building wherever applicable and appropriate. Community Wealth Building is an approach which aims to ensure the economic system builds wealth and prosperity for everyone.
* This news release was originally sent out by Preston City Council *
Picture caption - from left to right, Aidy Riggott, Nicola Elsworth and Matthew Brown pictured on Edith Rigby Way