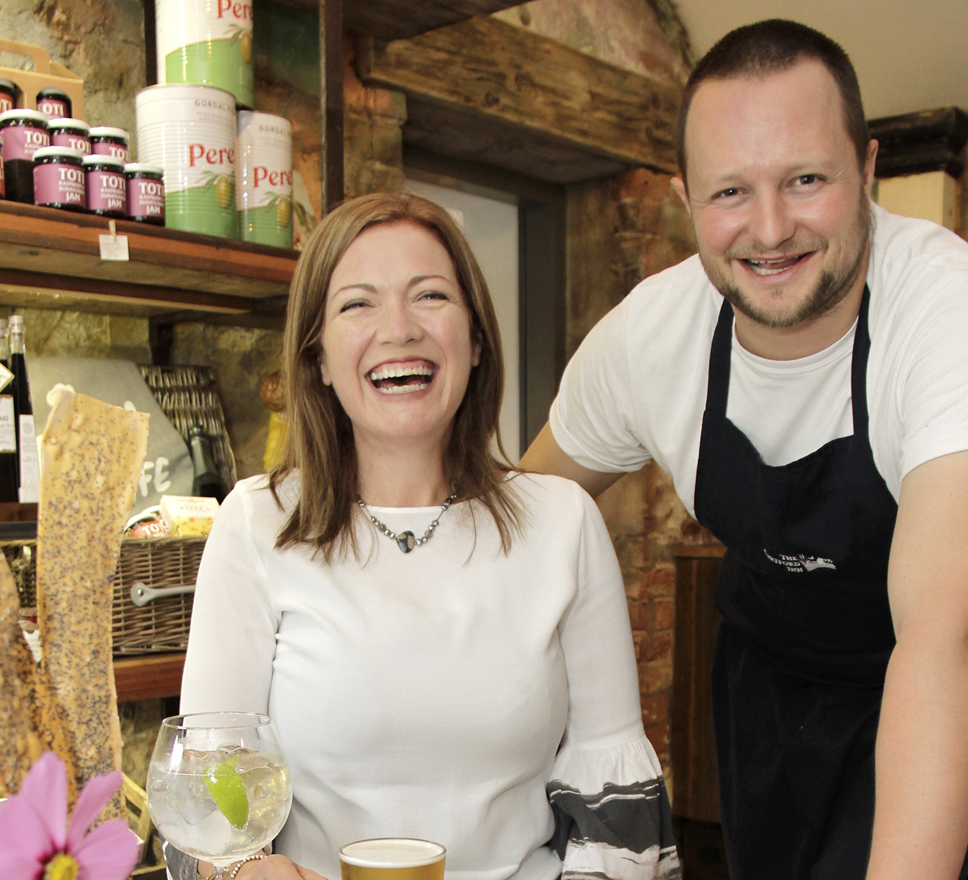 Rural business owner praises 'invaluable' support from Lancashire County Council
An entrepreneur with a passion for artisan food and the great outdoors has praised the wide range of support available through Lancashire County Council's Rural Recovery Fund.
The Rural Recovery Fund has been developed by the county council based on the needs of micro rural businesses and the farming community.
Katie Wilson runs Bowland and Bay Artisan Foodie Adventures, which whisks travellers to a select group of artisans in Lancashire and Cumbria.
After a chance encounter with Karen Lawrenson, senior project officer for the Rural Recovery Fund, Katie was introduced to the Tourism Peer-to-Peer programme, which was specifically developed for rural tourism micro businesses.
"I had no idea this type of support existed until I met Karen at an event," Katie said. "As a new business I can honestly say the support has been invaluable.
"The Peer-to-Peer programme was fantastic, I learnt so much and it was great to share ideas with other like-minded businesses."
Katie took part in a nine-week programme, which included two hours of group support with other tourism businesses, as well as 1-2-1 support. Katie identified that she needed to improve her digital skills and social media presence, so she also benefitted from a Digital Skills programme, which then led to participation in the Advanced Digital Skills workshop.
Bowland and Bay focus on sustainability and all of their food adventures take place in Lancashire and South Cumbria promoting our wonderful array of local food and drink.
As such, Bowland and Bay are also a key partner in the Eco Escapes AONB (Area of Outstanding Natural Beauty) project, a new project aimed at promoting sustainable travel across the Forest of Bowland and Silverdale.
All of these opportunities have been made available through the Lancashire County Council's Rural Recovery Fund.
Katie said: "As a result of the Digital Skills course I went on, I now have a presence on different social media channels and feel much more comfortable putting myself out there. Karen signposted me to Embrace Digital and I participated in a number of their workshops, which were brilliant.
"Karen also put me forward for an EVA award, which I was absolutely delighted about. Just being nominated was a real boost for me.
"I'm now really excited to be playing such a crucial role in the Eco Escapes AONB project."
Katie has recently developed a partnership with Northcote Manor offering afternoon Foodie Adventures, as part of a Gourmet food package. The initial offer was a sell-out, so Katie is now working closely with Northcote to develop further adventures, showcasing the wonderful produce on offer in Lancashire, such as Mrs Kirkhams cheese and Wildfox Gin Distillery.
Lancashire County Council is now looking for more businesses to support through the Rural Recovery Fund.
Karen Lawrenson, senior project officer for the Rural Recovery Fund, said: "We have been able to offer a bespoke programme, which has made a real difference to our rural businesses.
"I have participated in all of the programmes to gain a deeper understanding of the needs of our rural businesses, which has meant I have gotten to know the individual businesses who often pick up the phone to ask for advice and guidance.
"I have put forward a number of the businesses for the EVA awards, encouraged joint working, signposted to other support or just been available for a chat."
If you are a micro rural Lancashire business looking for support, please email: ruralrecoveryfund@lancashire.gov.uk
To find out more about Bowland and Bay Artisan Foodie Adventures, visit: www.bowlandandbay.co.uk
Notes to editors
Photo captions:
BowlandBay1
Katie Wilson & Chris Bury, head chef at the Cartford Inn
BowlandBay2
Katie Wilson & Lizzie Billington, owner of Wild Fox Gin Distillery
BowlandBay3
Bowland and Bay van at Jubilee Tower in the Forest of Bowland, overlooking Morecambe Bay