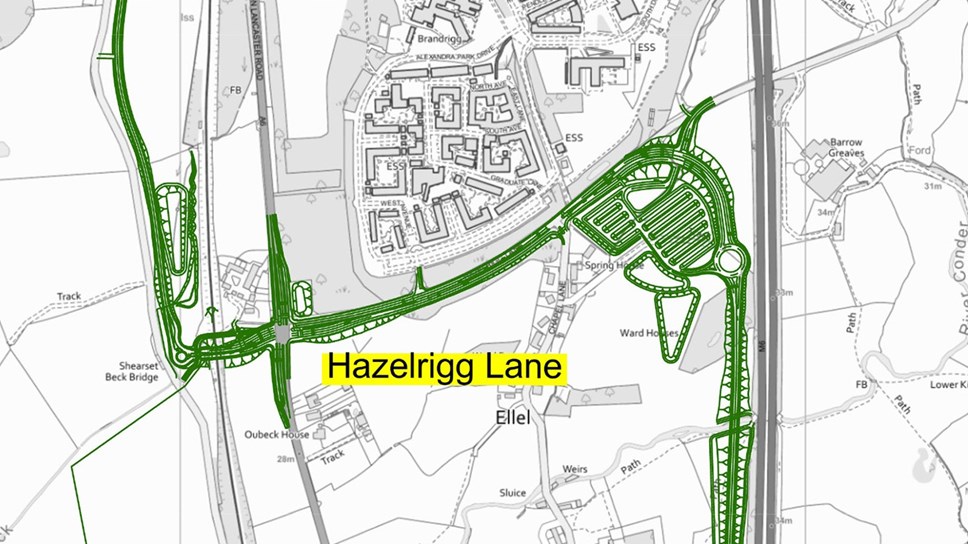 Share your views on transport proposals in South Lancaster
People are asked for the views on proposals for a new road scheme in South Lancaster to help to develop the plans.
The South Lancaster to M6 road scheme aims to help people to get around, encourage more public transport use, and unlock access to the proposed Bailrigg Garden Village.
This would involve a new road between the M6 at junction 33 and the propose Garden Village, as well as a new Park and Ride on Hazelrigg Lane.
People are encouraged to give their comments online by Wednesday 22 March at www.lancashire.gov.uk/TransformingLancasterTravel.
You can view details about the plans including the route of the road, possible bridge designs and environmental considerations.
These latest proposals have been developed following detailed surveys and investigations of the area. For example, the route has been altered to protect an area of valuable ancient woodland.
This proposed road is part of the South Lancaster Growth Catalyst programme, which would involve a significant investment in measures to encourage bus use, cycling and walking, to make these much more attractive travel options for people in future.
As well as helping Lancaster's economy to grow, this scheme also aims to solve some of the existing problems at certain times with congestion and pollution in and around the city centre and in Galgate.
County Councillor Aidy Riggott, Cabinet member for economic development and growth, said: "Please take the time to give us your views, as it's important to us that we hear from local people and can improve the plans by understanding more about local considerations.
"We'll take your feedback into account to finalise the proposals, and then people will also be able to comment on the proposals when the planning application is submitted.
"We want to help Lancaster district to grow, help people to get around and promote sustainable travel options. So we're working with Lancaster City Council and other partners to deliver these major transport improvements to benefit people and the local area."
Two public drop-in exhibition events are planned at Ellel Village Hall in Galgate:
Wednesday 8th March from 5pm to 8:30pm
Thursday 9th March from 9:30am to 5pm
People can come along to these events to find out more, share your views, and speak to people directly involved in the planning of the proposed scheme.
Planning permission will be needed before any work could start on site. A planning application will be prepared following the public engagement, taking the feedback into account. This planning application is expected to be submitted later this year.
Funding for the road scheme and a wider programme of supporting infrastructure includes a substantial award of £140 million from the government's Housing Infrastructure Fund.