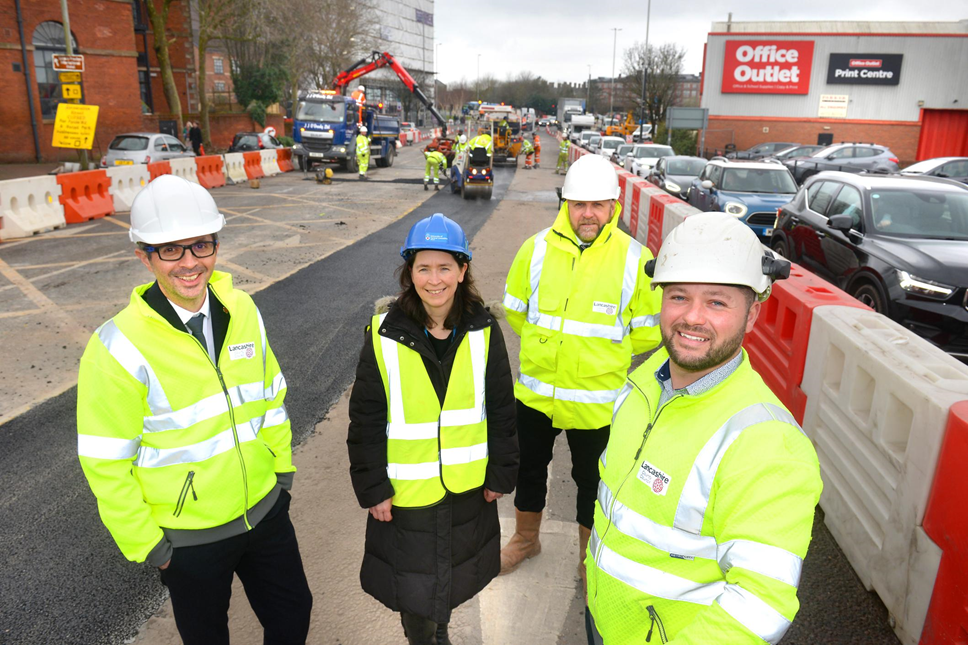 Site visit to check on the progress of Preston city centre improvements
The main partners of a £14.7m scheme to regenerate Preston city centre in line with other modern cities visited the site this week to see how work is progressing.
The Transforming Friargate North and Ringway scheme started in mid-November 2021 on Corporation St and is planned to be complete by spring 2023.
Lancashire County Council is delivering the scheme as part of its successful Transforming Cities Fund bid and has been working closely with Preston City Council and the University of Central Lancashire (UCLan).
The scheme will make the area more attractive, improve connections between parts of the city centre for a better leisure and shopping experience, and improve facilities for sustainable travel.
The site was visited by a group of representatives including Cllr Riggott and Phil Durnell from the county council and Claire Lowe from Uclan, who were given a tour by Lancashire County Council's engineers on the project. They were shown the completed works on Corporation Street North which will enable all of the bus services to be moved to Corporation Street from Friargate, allowing Friargate to be pedestrianised.
The group were also guided around the current major works to move the central reservation on Ring Way southwards to make room for a new two-way cycle path on the north side of the carriageway. This includes the Corporation St junction with Ringway where the team are undertaking traffic signal installation and drainage work.
County Councillor Aidy Riggott, Cabinet Member for Economic Development and Growth said:
"It's great to see how much progress has been made on site since work started late last year and although I appreciate there has been some traffic disruption, we can already start to see how these improvements will make Preston a far more attractive destination.
"Once again we thank people for their patience whilst we carry out these substantial works on very busy roads. We can all look forward to a reconnected city centre with increased footfall for businesses between the university and the Harris Quarter, as well as improved access for cyclists and pedestrians."
Phil Durnell, Director of Highways and Transport at Lancashire County Council said:
"I am pleased to see yet another major highways project being delivered by our in house teams at the county council. We are very fortunate to have some multi-talented operatives, managers and designers that work for us and it was great for our partners to see first hand their experience and expertise."
Councillor Matthew Brown, Leader of Preston City Council, said:
'It's great to hear the successful progress on the extensive developments that are underway on the Transforming Friargate North and Ringway scheme, which will improve travel in and around the city centre.
"Although there is a period of inconvenience, the long-term benefits of this project will create a more accessible city centre for years to come with improved and more sustainable travel options for residents, commuters, and visitors.
"We look forward to when this work is complete, improving connectivity across our city and increasing footfall to all Preston's independent businesses."
Claire Lowe, Strategic Development Lead at UCLan, said:
"This scheme will improve connections between the University and city centre and I am delighted to see the fantastic progress that has been made so far.
"These improvements build on what has already been achieved by establishing the new UCLan Student Centre and University Square as the gateway to the University from the city centre."
The next phase of works is planned to start late April/early May to bring about the pedestrianisation of Friargate. Between Ring Way and Marsh Lane, Friargate will be permanently closed to traffic, and the bus services currently running on Friargate will be moved to Corporation Street. High-quality paving, trees, street furniture such as benches, and the central service routes/cycleways will be installed at this time.
The work will be carried out in sections and access for pedestrians and for deliveries to the businesses will be maintained throughout the construction phase. A dedicated business liaison officer will be working with the businesses to ensure that the impact to them will be minimised and any problems that arise are dealt with swiftly. Clearly marked pedestrian routes will help guide people through the area whilst the works are on site.
The county council has produced plans to help show people how to move into and through Preston once the Transforming Friargate North and Ringway scheme is in place on their website at www.lancashire.gov.uk/fnr
Notes to editors
A range of schemes are planned that will transform Preston over the coming years.
In March 2020 Lancashire County Council (LCC) and our partners were awarded £40.4m by the Department for Transport (DfT), which was granted under the Transforming Cities Fund (TCF).
For more information visit www.lancashire.gov.uk/transformingcities
If you require images in a particular format, please contact us.