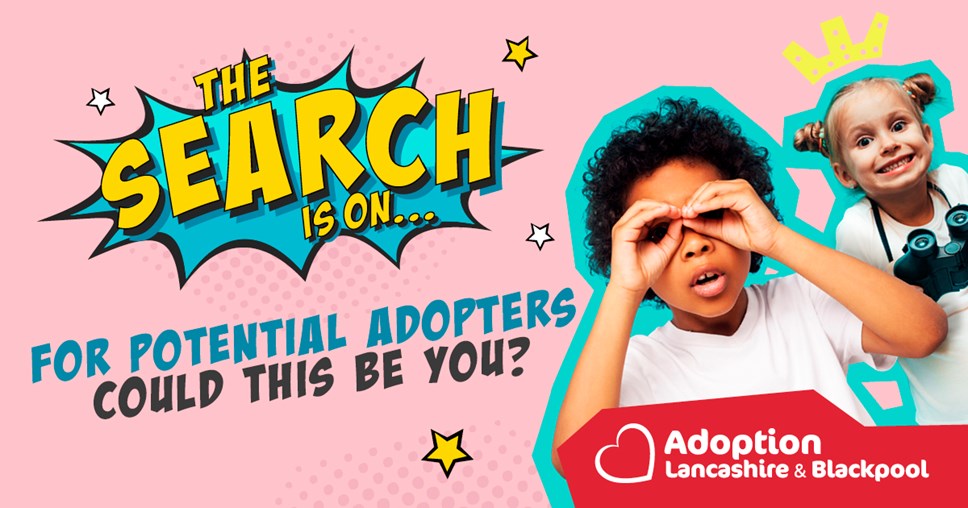 The #SearchIsOn for adoptive parents
The search is on to find adoptive parents who can provide loving forever homes for youngsters in Lancashire and Blackpool.
A new campaign launched this week by Adoption Lancashire & Blackpool is urging anyone interested in adopting a child or young person to get in touch to find out more about the process.

The campaign, #SearchIsOn, aims to show how the agency is always on the look out for would-be adopters and welcomes people from all backgrounds and walks of life.

Prospective adopters will also be told how right from their first contact, the agency's staff are more than happy to talk to them about what adopting could mean to them and their families as well as answer any questions they may have.

The agency currently needs adopters to come forward for brother and sister groups and children aged 3 years plus so they can start a new life.

For those who decide that adoption is right for them there is plenty of support available throughout the whole adoption process and beyond.

Consideration is given to anyone who wishes to adopt, regardless of their age, marital status, sexuality or gender. There are no strict rules about whether people should have jobs, their own homes or have their own children.

Adoption Lancashire & Blackpool is keen to hear from a broad range of prospective adopters, including single people and couples, same-sex and heterosexual, from all religious backgrounds or none.

It is also happy to consider people who have already adopted, already have a family, or are looking into adoption because they are unable to have children of their own.

The only legal requirements are that adopters must be over 21 and live within Lancashire and Blackpool or nearby.
Victoria Gent, Chair of Adoption Lancashire and Blackpool, said: "The #SearchIsOn campaign aims to let would-be adopters know we are on the look out for them – and we are just a phone call or click away.

"If you think you can offer a home to brothers and sisters or a older child which is a safe and happy permanent home we'd love to hear from you.

" We understand that it is a big life-changing decision for would be adopters, with lots of daunting questions and information.

"That's why our team of experienced staff are on hand to support people from their initial enquiry right the way through their adoption journey.

"We always need more adoptive parents from all walks of life, and I want to remind people that we welcome applications from people of all ages, single, married, cohabiting, in same-sex relationships, with or without their own children, working or not.

"We are there every step of the way to make sure would-be adopters and their circumstances are the best fit possible for the child or young person looking for a forever home."

Adoption Lancashire & Blackpool was launched in April 2020 and brings together expertise from Lancashire County and Blackpool Councils to simplify the adoption process, increase the number of adopters, improve the matching processes for children, and provide support for adoptive families.

To find out more, please visit www.adoptionlancashireblackpool.org.uk

Alternatively get in touch on 0300 123 6727.