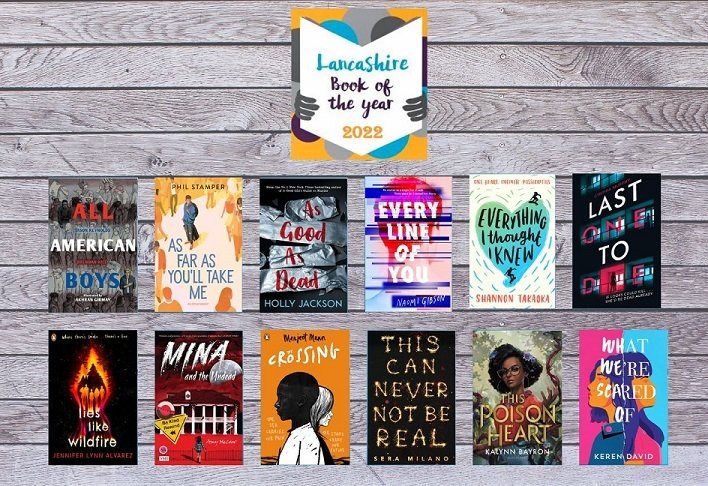 Thrilling tale named as Lancashire's Book of the Year
The winner of Lancashire's Book of the Year Award has been announced at a virtual presentation ceremony.
The award was won by Cynthia Murphy, young-adult thriller author, for her book Last One To Die.

The book tells the story of Niamh, an Irish-born 16-year-old arriving in London for the summer who discovers that girls are being attacked, and they look frighteningly similar to her. Can her new friends be trusted? Will she stay ahead of the attacker, or will she be next?
Winning author, Cynthia, said: "Thank you so much for voting Last One To Die to be Lancashire Book of The Year 2022. It means the absolute world.
"This one feels extra, extra special because I grew up in Bury and think of myself as a Lancashire lass.
"I'm just so proud that you liked my little weird book so much."

The Lancashire Book of the Year was the first regional book award for children when it was originally organised in 1987. It was won that year by Philip Pullman, who went on to great success with the His Dark Materials trilogy.
Now in its 37th year, it remains one of the few awards where young people are totally responsible for drawing up the shortlist and choosing the overall winner.
County Councillor Jayne Rear, Lancashire County Council's cabinet member for education and skills, said: "Reading is a wonderful pastime that can be enjoyed by people of all ages and backgrounds.
"Lancashire's Book of the Year Award champions the books that strike a chord with our young people and is a fun and engaging way encourage more children to read for pleasure.
"It also helps us to achieve our goal of maintain the high literacy levels we have in Lancashire, something we are fully committed to."
A total of 28 high schools from across the county took part in the judging process this year, with representation from across the whole of Lancashire. All of the judges are Year 9 pupils.

This year the young judges started with a long list of 91 young adult fiction books from which they shortlisted 12 titles. The library service worked with eBook partner BorrowBox to ensure that the judges had access to the shortlisted titles as eBooks as well as the physical copies in their schools. From those 12 titles the judges were then given the task of selecting the winner, which was done via a confidential vote in September 2022.

County Councillor Peter Buckley, Lancashire County Council's cabinet member for community and cultural services, said: "We're also proud that we're one of very few book awards that places the pupils at the heart of the awards process.
"It's fantastic to see so many young people engage with judging these awards, and I hope this experience only served to enhance their love of reading.
"Thank you to everyone who took part this year and congratulations to this year's winner."
The Lancashire Book of the Year Award was sponsored by UCLan for the 22nd year.

Find out more about Lancashire County Council libraries and the Lancashire Book of the Year at https://www.lancashire.gov.uk/libraries-and-archives/libraries/lancashires-book-of-the-year/


Notes to editors
This year's judging schools were:
• Alder Grange, Rossendale
Balshaw's CE High School, South Ribble
Bishop Rawstorne CE Academy, Chorley
Blessed Trinty RC College, Burnley
Cardinal Allen Catholic High School, Wyre
Carr Hill High School, Fylde,
Christ The King Catholic High School, Preston
Garstang Community Academy, Wyre
Mount Carmel Roman Catholic High School, Hyndburn
Pendle Vale College, Pendle
Ribblesdale High School, Ribble Valley
Saint Aidan's CE High School, Wyre
Sir John Thursby Community College, Burnley
Ss John Fisher and Thomas More RC High School, Pendle
St Cecilia's RC High School, Ribble Valley
St Bede's Catholich High School, West Lancs
The Hyndburn Academy, Hyndburn
The Valley Leadership Academy, Rossendale
Up Holland High School, West Lancashire
Walton-le-Dale High School, South Ribble
Worden Academy, South Ribble
• Kirkham Grammar School, Fylde
• Lathom High School, West Lancashire
Penwortham Priory Academy, South Ribble
Ashton Community Science College, Preston
Parklands Academy, Chorley
Archbishop Temple School, Preston
Corpus Christi Catholic High School, Preston


The shortlisted books and authors were:
All American Boys – Jason Reynolds and Brendan Kiely
As Far As You'll Take Me – Phil Stamper
As Good As Dead – Holly Jackson
Every Line Of You – Naomi Gibson
Everything I Thought I Knew – Shannon Takaoka
Last One To Die – Cynthia Murphy
Lies Like Wildfire – Jennifer Lynn Alvarez
Mina And The Undead – Amy McCaw
The Crossing – Manjeet Mann
This Can Never Not Be Real – Sera Milano
This Poison Heart – Kalynn Bayron
What We're Scared Of – Keren David