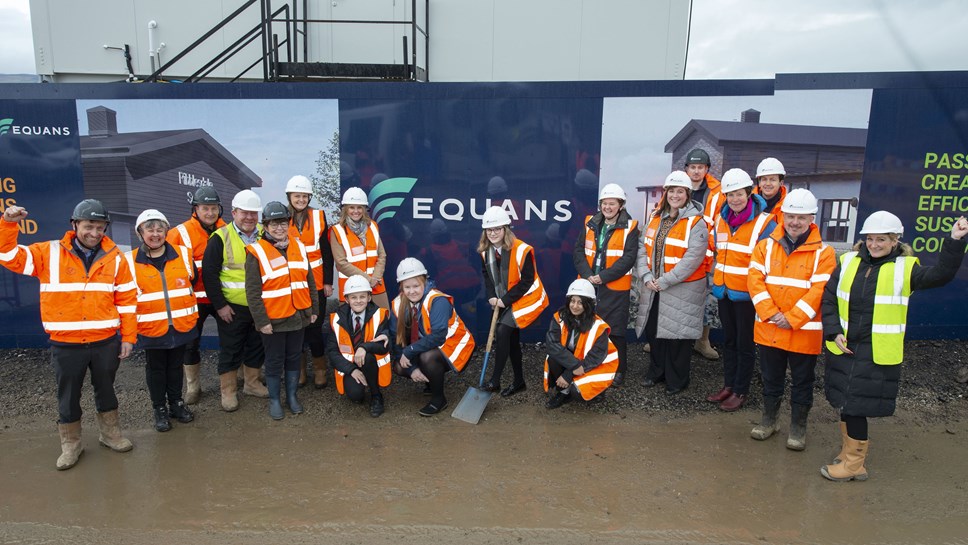 Turf-cutting ceremony marks the start of Clitheroe school-building project
A turf-cutting ceremony has marked the official start of a new school-building project in Clitheroe.
The new primary school is being built at Higher Standen Farm to allow Ribblesdale High School to provide additional primary school education from this September (2023).
With the school due to be completed by this August, the first intake of 30 reception pupils is due to start in the autumn. Over time, the school will provide 210 places to accommodate rising pupil numbers.
The turf-cutting ceremony took place on Wednesday, 25 January attended by Cllr Jayne Rear, cabinet member for education and skills, staff and pupils from Ribblesdale High School and representatives from construction firm Equans.
Cllr Jayne Rear said: "This innovative new primary school will deliver much-needed places for children in the Ribble Valley. We are constantly working hard to identify where more school places are needed, as we want every child in Lancashire to have access to the best possible education.

"We aim to deliver these school places in the most efficient way.

"We want the very best for Lancashire's children and young people as part of our pledge to make the county the best place to live.

"We must ensure that when construction is needed then it is done in an environmentally-friendly way, contributing towards the goal of making the county net zero for future generations."
Councillor Shaun Turner continued: "The school is being designed and constructed to achieve carbon net-zero status. Its modular construction is more energy-efficient and means a faster build time.
"It will be installed with a ground source heat pump, supplying the school with a sustainable source of heat and hot water. Solar panels will also be installed on the roof, which will generate power for the school and car charging points will also be available for staff and visitors.
"We are very keen at Lancashire County Council to take steps wherever possible to make our projects as eco-friendly and as green as possible and this is just one example of many."
Alyson Seddon, construction director at Equans, added: "Equans is committed to provided adding Social Value to the area around the Ribblesdale Primary School scheme. To date, the team have provided 'Industry Insights' session to 145 students from Ribblesdale High School, with two apprenticeships also having been created for students at Preston College.
"I'm delighted that we've started work on this exciting project in Ribblesdale. Equans is committed to helping our partners reach their carbon net-zero targets, and this sustainable modular school will be another important step in doing just that."
Notes to editors
Notes for editors: The council is responsible for making sure there are enough high-quality school places available to meet demand across the county, and the expansion of Ribblesdale High School will help us to do this.
Ribblesdale will become an all-through school for ages four-16, running the primary school (Higher Standem Farm) and secondary school (Queens Road) on the separate sites.
Expected developments in Clitheroe, plus an increase in the birth rate, means there will be an increase in demand for places in the area. The Higher Standen Farm housing development is set to provide 1,040 of around 1,400 houses planned for the Clitheroe area over the next few years.
The building for the new school will be provided by the county council and will be partly funded through contributions from the housing development contributions.