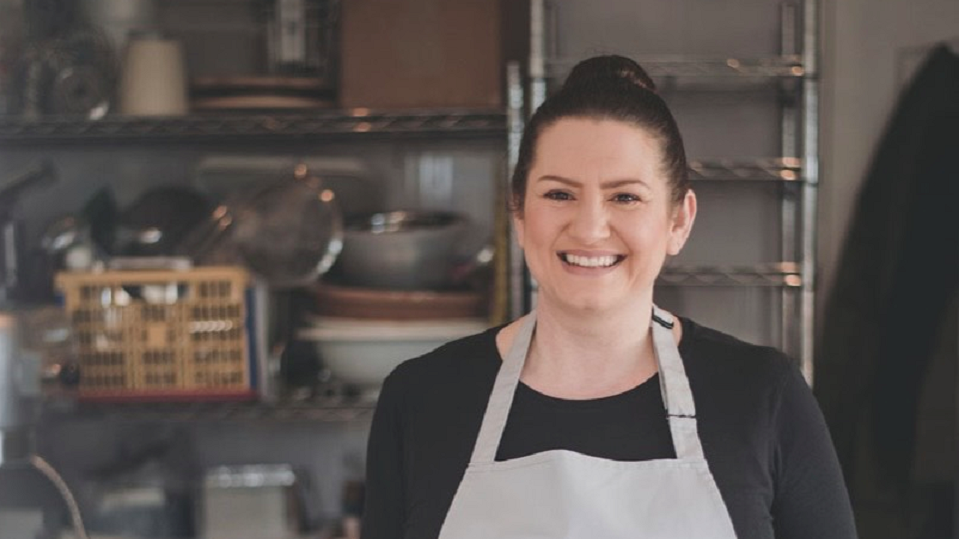 Wyre-based pudding maker reaches retail shelves following Boost support
A Wyre-based producer of traditional fruit crumbles and puddings has secured a contract to supply a well-known local retailer with its products after receiving funded support through Boost; Lancashire's business growth hub.
Rachel Ratcliffe, a former prison governor, set up her cake making business in 2013, as a complete career change to seek a less stressful occupation. She then switched to specialise in traditional British puddings, inspired by her grandmother's recipes.
Her business Pudalicious now provides a range of seven fruit crumbles and two sponge-based puddings available through the local food shop at Barton Grange Garden Centre. She also sells direct to consumers via farmers' markets.
Rachel first heard about Boost support in 2019 through the Pink Link Ladies network. At the time she was still selling celebration cakes and afternoon teas directly to the public, but she connected with UCLAN's Innovation and Design team to help with commercial branding.
Rachel was then introduced to Boost's Growth Mentoring programme in July 2020. She worked with mentor Paul Ainsthorpe to look at how to grow her business and gain distribution through retailers. Rachel was keen to keep her customer-base but move into a new direction for the business.
Rachel said: "I gained a lot of valuable confidence through the mentoring, and it improved my self-belief, but the pandemic forced me to pause my business plans, just as I was ready to expand."
Boost is Lancashire's Business Growth Hub and is led by Lancashire County Council and the Lancashire LEP (Local Enterprise Partnership). It is supported by funding from Lancashire County Council, the European Regional Development Fund (ERDF) and the Department of Business, Energy and Industrial Strategy.
The Growth Mentoring Programme is a fully funded programme where the business is matched with a successful businessperson who will provide support to tackle the challenges business leaders and management teams are facing in managing and growing their business.
She paused her new business strategy due to the COVID-19 pandemic but made a further connection with Boost in July 2021 and was introduced to Boost business adviser Debbie Chinn, a food and drink specialist, who undertook a business review with Rachel to help her get her business back on track.
Debbie advised Rachel what was required to get her products into retail outlets, which includes shelf-life testing, nutritional analysis and marketing.
She introduced Rachel to the NoWFOOD programme at Chester University which provided her with a cost-effective shelf-life testing service for her pudding products and advice on upgrading her product labels with nutritional values. These were a prerequisite to stocking her puddings at Barton Grange and other retail outlets.
Rachel also received support from the Lancashire County Council's LEADER Rural Development Fund and benefitted from joining a cohort of similar rural businesses through Boost's Peer Networks in early 2022.
Rachel Ratcliffe
Rachel said "There is no doubt that Boost offers essential support for businesses. Through its own funded programmes and by signposting me to other support providers, I have received a wide range of support across many areas of my business. This all stemmed from my initial introduction to Boost."
Debbie said: "It is so satisfying to speak to ambitious entrepreneurs like Rachel that are keen to make a go of it in the food and drink sector. I can draw from my own professional experience and help sign post them to the relevant support services on offer. Rachel has benefitted from a range of support programmes that all stem back to her initial enquiry with Boost over four years ago."
Rachel recently celebrated the tenth anniversary of her baking business and has plans to get her products into more retail outlets and supermarkets and continues to work with Boost business advisor Debbie Chinn.
Future expansion plans include recruiting a driver and being able to appear at local farmers' markets in a greater capacity. Rachel is keen to increase retail contracts and recently secured a further contract to supply Barton Grange with frozen goods and also supplies fresh puddings to Hens On The Hill – a self-service farm shop near Blackburn.
She also has other potential contracts in the pipeline and aims to expand her kitchen or seek a small catering unit in the next 18 months.
Rachel added: "The ability to run your ideas past advisers that are specialists in their field is invaluable. I have exciting plans for the future of my business, and I know I can always turn to Boost for support along the way."
Notes to editors
For further information, contact:
Jacqueline Ballard, Joel Durkin, Simon Turner, Freshfield
01772 888400 / jacqueline@freshfield.com / joel@freshfield.com / simon@freshfield.com
About Boost
Boost is Lancashire's Business Growth Hub and is led by Lancashire County Council and the Lancashire LEP (Local Enterprise Partnership). It is supported by funding from Lancashire County Council, the European Regional Development Fund (ERDF) and the Department of Business, Energy and Industrial Strategy.
The role of Boost is to help growth-hungry Lancashire businesses realise their potential by providing simple access to a range of leading-edge funded programmes, delivered by specialists with a track record of growing established and innovative start-up businesses. Boost also helps businesses access specialist private sector business support, as well as other nationally funded programmes, where relevant.
Since its inception in July 2013, Boost has provided growth advice and support to over 8,000 businesses across Lancashire, with many benefiting from tailored programmes of consultancy, grants or mentoring to support their growth. Boost has so far helped to create over 3,000 jobs and generated new economic activity valued in excess of £100m.
In December 2021, Boost secured £3.2m of new funding to run for a further 18 months from January 2022.
Boost has received £1.9m of funding from the England European Regional Development Fund (ERDF) as part of the European Structural and Investment Funds Growth Programme 2014-2020. The Department for Levelling Up, Housing and Communities is the Managing Authority for ERDF. Established by the European Union, ERDF funds help local areas stimulate their economic development by investing in projects which will support innovation, businesses, create jobs and local community regenerations. For more information visit https://www.gov.uk/european-growth-funding.
Growth Hubs and the Growth Hub Network - The 38 Local Enterprise Partnership led Growth Hubs across England bring together and simplify access to national and local business support. Supported by Government, Growth Hubs ensure that no matter the size, sector or maturity of a business they provide locally tailored business support and advice to direct businesses to the most appropriate organisations to assist with their specific requests.