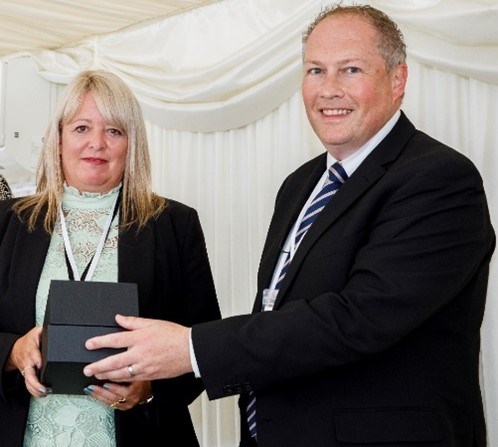 Campaign to tackle underage drinking wins national award
A campaign to spread the message that an alcohol-free childhood is safest and best has won a national award.
The Where's The Harm? campaign, run by Lancashire County Council's trading standards team, was presented with a Community Alcohol Partnership (CAP) Award at the Houses of Parliament hosted by MP Matt Warman. It won the Parental Education category.
Where's The Harm? ran for six weeks in the run up to Christmas 2021. It used social media to reinforce the message given by Britain's Chief Medical Officer, that staying alcohol free is the safest and best option for young people up to the age of 18.
The Chief Medical Officer's guidance is based on evidence that drinking at a young age, and particularly heavy or regular drinking, can result in physical or mental health problems and impair brain development. It can also put children at risk of alcohol-related accident or injury and is associated with missing or falling behind at school, violent and anti-social behaviour, and unsafe sexual behaviour.
The campaign included a video clip showing an experiment to find out what shoppers and staff at a local store would do when confronted with situations where parents buy alcohol for their children.
County Councillor Michael Green, cabinet member for health and wellbeing, said: "It's tremendous news that our trading standards team has won this national award.
"A child's mind and body is still developing, and drinking can be hazardous to their health. It is crucial that parents are aware of the Chief Medical Officer's advice, that an alcohol-free childhood is safest and best for their children.
"This is a great example of how the team uses innovative and creative ways to get across important messages to improve the health and wellbeing of young people.
"Congratulations to everyone involved for winning this award."
The awards event also saw the launch of the CAP report "An Alcohol-Free Childhood", concluding that parents are largely unaware of the Chief Medical Officer's guidance.
Angela Lomax, trading standards manager accepting the award on behalf of the team, said: "This campaign is the brainchild of Sam Beetham, who works in our team.
"We needed to find a way of ensuring parents understand that not giving their children alcohol is the best for their health and wellbeing. The social media posts and video clip reinforce this important message in an easy to understand and engaging way.
"This has been a difficult couple of years for young people. In anticipation of end of year exam celebrations and the summer holidays, it's important that we share the findings of the report and once again reinforce the chief medical officer's advice to Lancashire parents."
The award was presented by Neil Eccles, Senior Manager for Licensing and Permitting at Asda, who is one of the CAP directors.
Neil said: "I'm delighted to present this award for parental education to Samantha Beetham of the Alcohol and Tobacco team at Lancashire County Council, for the hugely successful Where's the Harm? campaign.  
"The campaign stemmed from a 2020 survey in which 78% of children in Lancashire who drank alcohol said it was provided by their parents. The team worked closely with CAPs across Lancashire to promote the campaign, increase awareness among parents of alcohol risks and reduce young people's exposure to alcohol. 
"It set out to change perceptions of how appropriate it is for parents to give alcohol to under 18s and encourage them to speak to their children about alcohol.
"During 2021 the team also had concerns about increased consumption of alcohol in the home during the lockdown period, so they re-launched the Where's The Harm? campaign to raise parental awareness in the run up to Christmas.   
"This was an important and far-reaching campaign and brilliantly executed. My congratulations to Samantha and the team." 
To read copies of the CAPs 'An Alcohol Free Childhood' report, which was launched at the event, select this link.