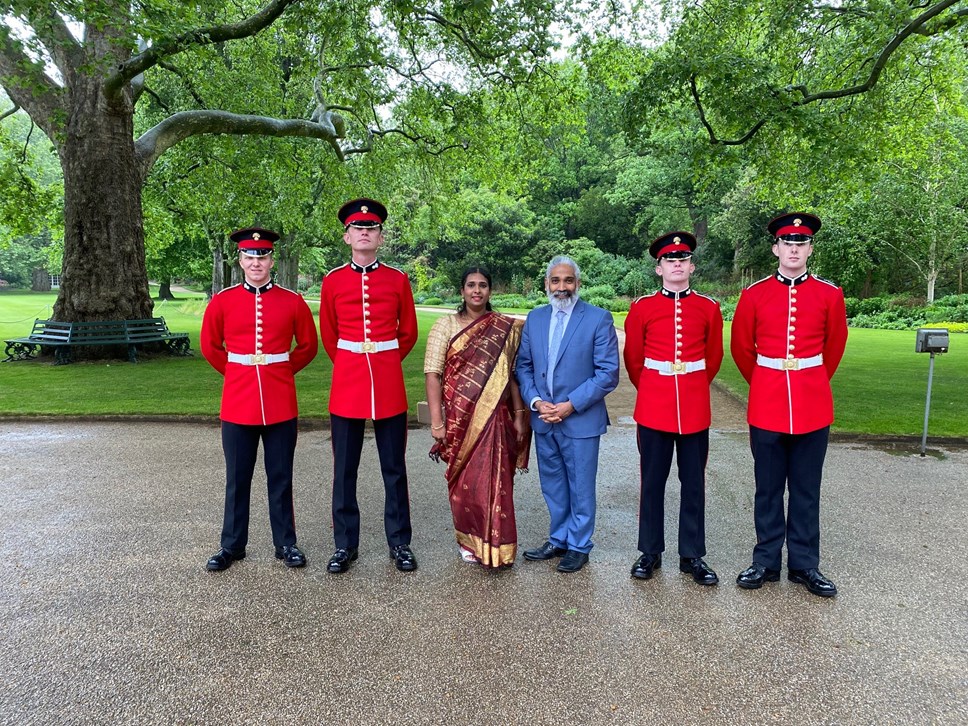 Dr Sakthi attends Buckingham Palace Garden Party in recognition of helping to keep Lancashire safe during pandemic
Lancashire's Director of Public Health had the honour of attending The Queen's Garden Party in recognition of the county council's efforts to keep people safe during the coronavirus pandemic.
In the summer, The Queen traditionally hosts three Garden Parties at Buckingham Palace, and one at the Palace of Holyroodhouse in Scotland.
The Garden Parties are an important way for The Queen to speak to a broad range of people from all walks of life, all of whom have made a positive impact in their community.
Unfortunately, The Queen is not attending any garden parties this year following her period of ill health, with other Royals filling in, as the annual events return for the first time in two years due to Covid-19.
Throughout the country, a long-established network of sponsors is used to invite guests to achieve a representative cross section of the community a way of recognising and rewarding public service.
Dr Sakthi Karunanithi, Director of Public Health, Lancashire County Council, was invited to the Garden Party at Buckingham Palace on Wednesday, May 11, attending with his wife.
Dr Sakthi has been at the forefront of the local response to Covid-19, and has become something of a household name over the past two years with his public advice to keep residents safe.
Speaking of his trip to Buckingham Palace, Dr Sakthi said: "When we arrived, we were greeted with a really nice cup of tea and a very yummy slice of cake, while a Royal Air force brass band played in the background.
"We got to see HRH Prince Charles and HRH Princess Anne really close, they were striking a very natural conversation with people around them.
"It was a great experience to be in the company of so many people who have done so much for their communities.
"Overall, it was a very humbling day and I have come back even more inspired to serve the lovely people of Lancashire and make Lancashire a great place to live, work, visit and prosper."
County Councillor Michael Green, Lancashire County Council's Cabinet Member for Health and Wellbeing, praised Dr Sakthi and Lancashire's Public Health team for making a "real difference" during the coronavirus pandemic.
County Councillor Green said: "It was very fitting that Dr Sakthi Karunanithi should attend this year, after he has led a Public Health team, which has done so much for the people of Lancashire over many years, but particularly during the challenging pandemic.
"The commitment of Dr Sakthi and our Public Health team to make a real difference for local residents has been exemplary.
"Moving forwards, I am working closely with Dr Sakthi and our Public Health team to recover key public health outcomes, to support Lancashire residents to thrive through better life chances and to develop Lancashire as a safer, fairer and healthier place for everyone."