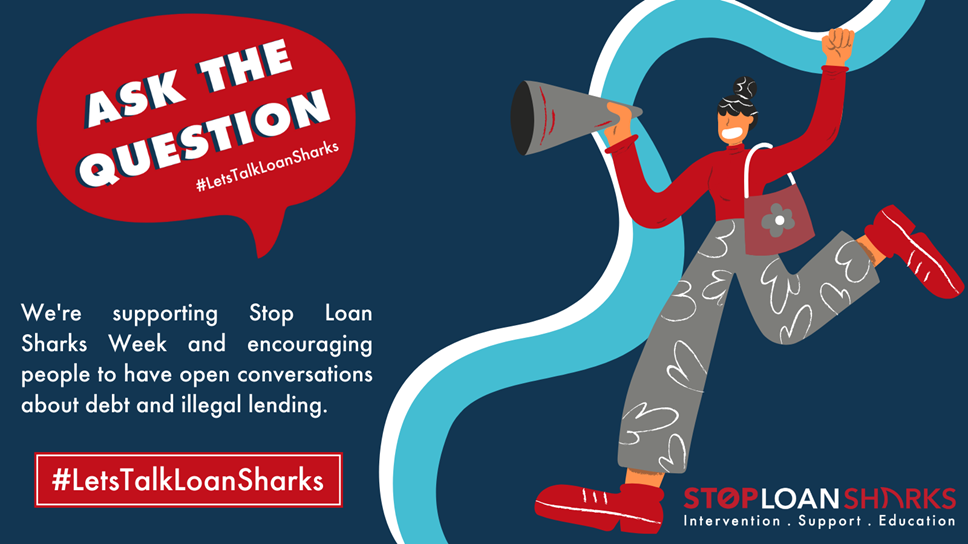 Lancashire residents urged to break the silence on illegal money lending
Lancashire County Council's trading standards team is supporting a national campaign to make people aware of the dangers of loan sharks and highlight the support that is available.
The England Illegal Money Lending Team is running their national Stop Loan Sharks Week campaign until 2 October 2022.
The campaign aims to highlight the help available to those who have been targeted by loan sharks, as well as increase awareness of this hidden crime.
A report published by the Centre for Social Justice estimated that 1.08 million people in the UK could be borrowing from an illegal money lender – more commonly known as a loan shark.
This figure has more than trebled since 2010. Loan sharks are criminals who lend money at extortionate rates of interest, threatening significant harm to borrowers if they do not pay.
These ruthless lenders use coercive control and psychological threats to keep victims trapped in an endless cycle of debt for years, often with devastating consequences.
This year's campaign will focus on reaching vulnerable people who may not realise they are being exploited by loan sharks, as well as raising awareness of the support available to those who have already come into contact with an illegal lender.
The #LetsTalkLoanSharks campaign aims to remove the shame and banish the stigma around illegal money lending by encouraging conversations among families, friends, neighbours, customers, colleagues and communities.
It also encourages frontline professionals to have a loan shark conversation with every client they see during the week, whether or not each person they see is showing signs of borrowing from a loan shark. People who have borrowed from loan sharks often keep this information to themselves, but by asking a few simple questions, professionals can help someone feel supported enough to disclose their situation so they can get the help they need.
County Councillor Michael Green, cabinet member for health and wellbeing, said: "With the rise in the cost of living, many people are unfortunately going through difficult and worrying times right now.
"My advice to people is this, however bad your financial situation is, borrowing money from an illegal moneylender is not the answer. Loan sharks mercilessly prey on the most vulnerable people in our society and will use deceptive tactics to trap them in a cycle of debt and fear.
"We must break the silence around illegal moneylending. If you have had to borrow money from a loan shark, you shouldn't in any way feel embarrassed or ashamed. "The safety of our communities depends on victims coming forward and reporting loan sharks to the authorities."
New figures released by the IMLT show that over one-third (35%) of victims had sought debt advice but were reluctant to report the loan shark to their support worker due to fear of reprisals from the lender.
County Councillor Green added: "We will continue to work closely with the England Illegal Money Lending Team to raise awareness and give information to all those affected by illegal lending.
"We will encourage front-line workers to spot the signs of people who may be borrowing money from a loan shark to offer them support and advice."
Notes to editors
If you think a person might be involved with a loan shark, there are some warning signs to look out for:
A loan without paperwork and an extortionate rate of repayment are usually obvious signs.
Watch out for sudden changes in their behaviour, or evidence that they are handing over personal items such as their bank card, passport or jewellery to someone they owe money to.
How to support someone you're worried about:
If you have been affected by loan sharks or have concerns about someone you know, confidential advice and support is available from the Illegal Money Lending Team. Call the Stop Loan Sharks 24 Hour Helpline on 0300 555 2222 or visit the website for more information at www.stoploansharks.co.uk.
Live Chat is available on the website between 9am to 5pm, Monday to Friday.
The #LetsTalkLoanSharks campaign is running across the Stop Loan Sharks England social media accounts and aims to raise awareness of loan sharks, the dangers they pose and share practical tips on how people can protect themselves.