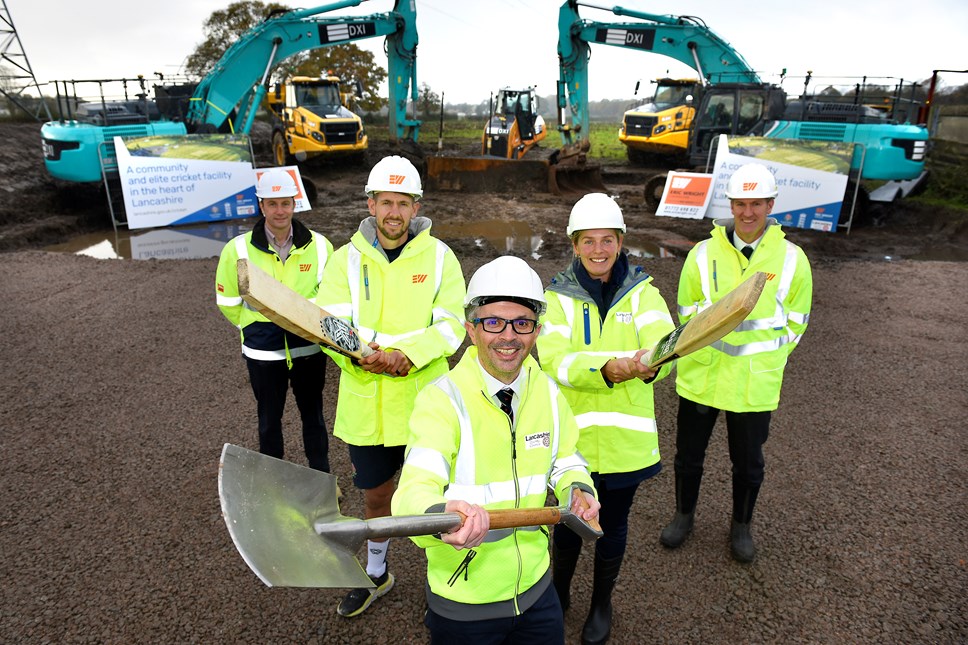 Work starts on pioneering cricket facility in central Lancashire
Construction has started on a high-quality professional and community cricket facility in central Lancashire, which will be the first of its kind.
Lancashire County Council and Lancashire Cricket are working together to build this new facility at Farington, bringing together elite and community cricket in one high quality development.
To officially mark the start of work, Lancashire County Council's cabinet member for economic development and growth, Aidy Riggott, was joined by Lancashire Cricket's Mark Chilton for a turf-cutting ceremony on the site.
With a 19-month build time, it is hoped that cricket could be played at Farington in the 2025 cricket season.
County Councillor Aidy Riggott, cabinet member for economic development and growth, said: "This pioneering development in the heart of the county, will provide new professional standard facilities for the club, as well as being a valuable asset for the local community with multiple benefits to health and wellbeing.
"We're pleased that we've brought in Lancashire-based Eric Wright Construction to build this facility, bringing an excellent track record in providing further benefits to the county through local jobs and procurement."
The new facility will become a Women's Centre of Excellence for the North-West of England and will help Lancashire Cricket continue to bring through the cricketers of the future.
Mark Chilton, Director of Cricket Performance at Lancashire cricket said: "This is a landmark day for Lancashire Cricket as construction begins at Farington, a unique ground that will bring together elite and community cricket – located on one site in the heart of our county.
"It's something that we've been working on, alongside Lancashire County Council, for a long while now and the development will provide top class elite facilities for both our men's and women's side which can also serve recreational cricket and the wider community at the same time.
"Our aim is to have cricket take place by the end of the 2025 season and we are all incredibly excited at the Club to watch the progression of the site over the next couple of years. We would also like to thank Lancashire County Council for all their assistance with the project."
The facility will feature two cricket pitches and host a number of men's and women's competitive matches each year. The second cricket pitch will support community, recreational and youth cricket, as well as offering a new training facility for the club.
The ECB provided £1.6m in funding towards the development of the new facility.
Clare Connor, ECB Deputy Chief Executive, said: "This new facility in Farington will create a community cricket hub which Lancashire will be proud of, serving diverse groups of participants in our sport.
"It represents one of the ECB's largest ever investments because of its scope; it will become a professional standard hub for women's and girls' cricket, a regional development centre for disability cricket, and a place which will be used by state schools, local clubs and community groups.
"In doing so, Farington will directly support many of the game's priorities, through long-term growth and connecting more communities through cricket."
The construction of the new cricket facility is being carried out by Lancashire-based Eric Wright Construction, whose headquarters are in Bamber Bridge.
James Eager, director of Eric Wright Construction said: "This is a going to be a superb new sporting facility and we are incredibly proud to have been appointed by LCC and Lancashire Cricket to deliver this for the region.
"As a Lancashire based business enhancing the facilities within our community is really important to us and we're excited to have now started on site with the support of our local labour force."
Katherine Fletcher, Member of Parliament for South Ribble, said: "I was delighted to be at Farington for the start of what is a new era. We have spades in the ground for a transformative sports complex that a whole range of community cricket clubs and groups can access alongside the elite sportsmen and women from Lancashire Cricket Club who will use it to train and compete at.
"This is two LCCs working together to build a legacy locally, nationally, and internationally for the sport and especially for the development of the women's game, but I am most thrilled about how the community will be able to enjoy some of these world class facilities when they are ready in 2025. I am looking forward to coming back when the doors open."
Find out more about the project at www.lancashire.gov.uk/cricket.